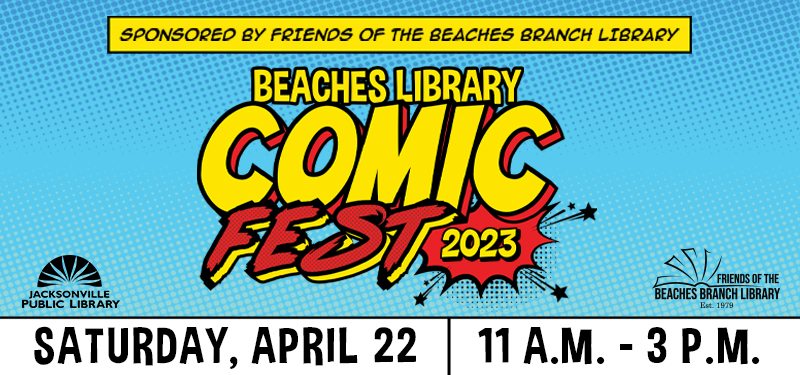 Grab your cape and cowl and join us for a celebration of reading and fandom culture! Beaches Library Comic Fest makes its triumphant return Saturday, April 22 from 11 a.m. – 3 p.m. The event is sponsored by Friends of the Beaches Branch Library and features some of your favorite cosplayers, gamers and comic creators from the Beaches community and beyond.
#New name, same FAN-tastic event!
All of your favorites are coming back this year, as well as a few new faces! It's a team-up of epic proportions. Come dressed in your cosplay best and make sure your favorite hero (or villain) is represented!
#Schedule of events
11:15 a.m. — Superhero Storytime 
11:45 a.m. — Fletcher High School Band
11 a.m. to 1 p.m. —  Art-Z-Faces (face painting)
12 to 3 p.m. —  DJ Mario Lambert (click here to submit a song request)
1:45 p.m. —  Costume Parade
2 p.m. —  Costume Contest 
Throughout the day, check out our Rubik's Cube Tournament (you vs. the stopwatch), fandom craft stations, a LEGO Build  and so much more!
#Drop in for Dungeons & Dragons 
The Nerd Club from Atlantic Coast High School will be running some D&D one-shot adventures for folks interested in learning how to play. They'll also talk about their annual convention, StingrayCon!
The Nerd Club is led by teacher Joseph Rawlins and supports 200+ students who are interested in D&D, anime, comics, cosplay and more!
#More special guests:
Jay Woodley - special effects makeup demonstration
Last Council Saber Academy
501st Stormtroopers
Droid Chaser North Florida R2D2
Ghostbusters of Middleburg
Magician Mike Kies
Candy Keane, cosplayer and blogger at Geek Mamas
Beach Bumz Robotics Club (Fletcher Middle School)
Mayport Middle School Anime Club and D&D Club
Rock painting with Terry Dostalik of Atlantic Beach Rocks
Fandom artists, vendors, demos and more!
#Comic Book Cover Contest
Calling all artists! See your original art hanging in the Hall of Heroes. We're accepting entries for the Comic Book Cover Contest now through April 15!
We can only accept one entry per person (original art only, please). Prizes will be awarded live at Beaches Library Comic Fest on April 22 in these three categories: Children (ages 5-12), Teens, (13-19), and Adults (20 years old and up). Stop by the Beaches Branch Library to pick up the official entry form. You can also email Julie Rekow to receive a printable PDF entry form via email.
#Calling all LEGO Builders
Are you the next Master Builder? Show off your skills and work with other LEGO enthusiasts to construct your own brick heroes, robots, secret liars, superhero headquarters and more!
And if you have some extra LEGOs (that are looking for a good home): You can donate LEGOs to the Beaches Library for use at the event. Make donations at the Beaches Library on 600 3rd St. Neptune Beach or contact Friends of the Beaches Branch Library member Ellen Cage at ellencage@gmail.com.
---