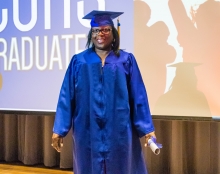 At age 51, Desiree Lazarus took the plunge, and did something she's had on her bucket list for a long time—she went "back to high school" to get her diploma. After several failed attempts at the GED—she passed the social studies, science and reading sections easily but had difficulty with the writing and math—she'd all but thrown in the towel when she learned about Career Online High School (COHS) at the library.
Desiree, who is currently employed full-time, previously worked for years as a certified nursing assistant at Brooks Rehabilitation Hospital. She has an interest in helping others and plans to return to health care, perhaps as an occupational therapist in the future. In the back of her mind, she'd always known it would take a high school diploma to pursue that dream—so she was thrilled when she spotted a poster about COHS in the Southeast Regional Library.
"I had failed the GED tests. I was so tired. But this was something I wanted to try," said Desiree. "It worked really well for me. It was an online program, which was convenient because I was working. Also, it wasn't timed so I wasn't rushed. You pass one section before you move to the next, and I had 18 months to complete it."
Once accepted into the COHS program through the library's Center for Adult Learning, Desiree found herself looking forward to studying every day when she came home from work. "It kept me home. I didn't go out. I hardly watched TV because I was so into the books," she said. "I could work on it anytime, Sunday through Sunday if I wanted to. My coach checked on me once a week by phone."
After coming to the United States from Trinidad as a teen, Desiree said she "lost interest" in school and quit, a decision she would come to regret later in life. After applying for several jobs, she realized the importance of a high school diploma.
"When I was young, it didn't matter as much," Desiree said. "But as I got older, not having a diploma made a big difference. I wanted to apply for a corrections officer job once, but I backed down because it required a high school diploma. You need a diploma for a good paying job. You also get more respect in life."
A mother of three grown children and raising a granddaughter, Desiree said her family was proud of her accomplishment, and they got really excited when her diploma came in the mail. Even though it took her the maximum time that COHS allows to earn a diploma, she said, "It sure didn't seem like 18 months and I sure wasn't giving up!"
With diploma in hand, Desiree has set a goal to begin college within a year, while the math she learned is still fresh in her mind. She encourages others to take advantage of COHS. "It's an excellent program. Anyone can do it. You just have to dedicate the time," she said.