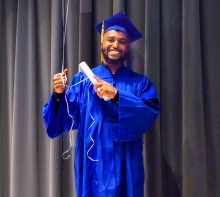 Dante Chandler, 32 years old and happily married, professes that his family and five children are his "motivation for living and being a better person." One thing he looks forward to each week is making a trip with the kids to the public library, typically the Willowbranch Branch Library, which is near the kids' school, or the Main Library if they're venturing close to downtown.
On one of their visits to the Main Library, the kids loaded up on books to take home, and Dante picked up a brochure about Career Online High School. He immediately told himself "no excuses," and he followed up with Literacy Program Supervisor Tammy Owens, who oversees the accredited online high school diploma program in the library's Center for Adult Learning.
Dante said it's hard to talk about his past and the reasons he didn't finish high school. He's not proud of some of the decisions he made when he was younger, but he's turned things around, and he is optimistic about the future. "I was a follower, and I followed the wrong crowd," said Dante. "God gave me a second chance to do better and to be a better citizen."
In spite of a successful career as a satellite technician in Jacksonville for the past five years, getting a high school diploma was important—and personal—to Dante. "I wanted the accomplishment for my kids and for my mother," he said. "I wanted to do it for myself first and foremost, something I could be proud of."
He said it feels "great" to finally have earned his diploma. He's registered for online classes at FSCJ, and weighing his options, seeing what it takes to be a registered nurse, CNA or patient transporter, and looking at other hospital jobs. "Right now, it's just about getting my foot in the door," he said.
Dante wishes his grandmother were here to see him graduate. "Everyone in my family is stoked, super proud, and so happy for me," he said. "My grandmother would be excited … she was always praying for me when I went through rough times. I wish she'd seen this turnaround before she died."
In truth, Dante believes his grandmother, who endures in his memory, will be there—as the voice of encouragement and inspiration, always cheering him on.