Vines twist and twirl, gourds grow in all different textures, colors, and shapes. Come explore the pumpkin patch with us!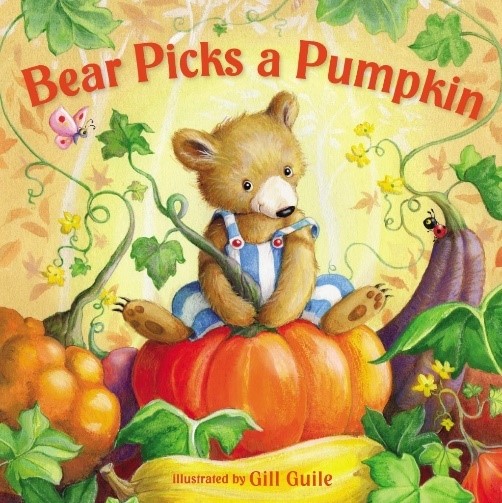 Use your library card or apply for an ecard here to access our digital library!  
Bear Picks a Pumpkin is the perfect book to snuggle up with in the fall. The whimsical, rhyming text tells the story of Bear on a quest to find the perfect pumpkin. Will he choose a tall one? A tiny one? One with stripes? Or perhaps a pumpkin white as snow? Read along and find out which pumpkin Bear (and his friends) will choose!  
Increase pre-literacy skills as you read together: 
Ask your little one what they think the pumpkin Bear picks will look like and talk about the different colors of pumpkins they see. 
This book has plenty of rhymes, emphasize the rhyming words while Bear searches for the perfect pumpkin.
There are bugs and critters hiding throughout the pumpkin patch, search for and count them on your fingers. 
#SING: Five Little Pumpkins  
#EXPLORE: Pumpkin Sensory Exploration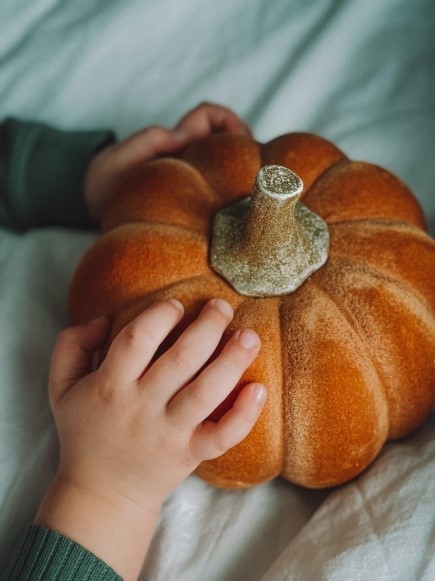 Materials: 
Pumpkin
Material to protect work surface (such as newspaper or plastic tablecloth)
Knife or pumpkin carving kit
Optional: Ziplock bag
Instructions: 
Adult Preparation - Prepare your exploration by laying out protection for your work surface, and cutting top off of pumpkin. 
Senses Exploration - Invite your little one to come explore the pumpkin using their senses.   
Sight: Allow your little one to look inside the pumpkin.

Ask - "What color is our pumpkin?"

Smell: Let your child smell inside of pumpkin.

Ask - "Does the pumpkin smell good?"

Sound: Drum on pumpkin and listen to the sounds it makes before and after removing guts and/or cutting top off.

Ask - "What does this sound like?"

Taste: Depending on age, your little one can explore taste by trying seasoned pumpkin seeds, helping make pumpkin based treats like bread or pie, tasting pumpkin baby food/puree while exploring pumpkin, or simply allow your little learner taste their hands after exploring inside of the pumpkin.

Ask - "Does pumpkin taste sweet?"

Touch: Feel outside of pumpkin, allow your child to feel inside of pumpkin. 

Optional: if your little one is sensitive to specific textures, you can put pumpkin guts and seeds inside of a plastic bag to create sensory bag so they can explore the texture without discomfort.
Ask - "What do you think the pumpkin guts will feel like?"
#JOIN: Attend a program virtually or in person!    
View all early childhood programs and events offered this month.  
For virtual programs, registration is required to receive the Zoom link. Use the link in the program information to register. 
For in-person programs, registration is required. If space allows, walk-ins will be admitted. Use the link in the program information to register. 
#KEEP READING: These books are the pick of the patch!