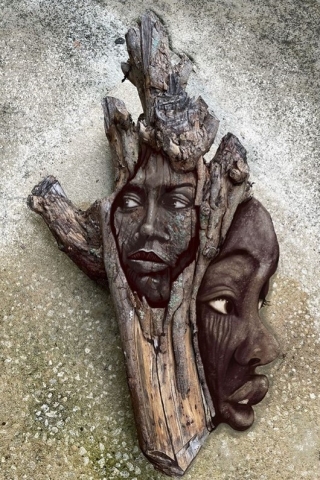 Natural Narrative - with art by Marsha Hatcher and presented by The Art Center Cooperative, Inc. - runs May 19 - July 19 on the second and third floors of the Main Library. An opening reception is planned for Wednesday, June 7 from 6-8 p.m. (during Art Walk) for both he Written Word, a visual art exhibit in the Gallery at Main (on the first floor of the Main Library) and Natural Narrative. Come meet the artists and enjoy some light refreshments. 
"Natural Narrative" is a series of images that blend photography and drawing together to create stunning images that explore the relationship between nature and humanity and the ways in which we interact with and impact the natural world around us.
Marsha Hatcher is an African American visual artist born and raised in South Georgia. She has called Jacksonville, Florida, her home for the past 35 years. She has been creating art for decades, focusing primarily on portraits and people of color. Her work often incorporates elements from the African diaspora and her own experiences within the Black community. 
Marsha's work has been featured in many galleries and publications across the United States. Her work reflects her strong commitment to social justice, highlighting cultural identity and highlighting historical figures and important ideologies in her pieces. She uses vibrant colors and attention to detail to create powerful messages that speak to the struggles of marginalized communities.