Friday, November 18, 2022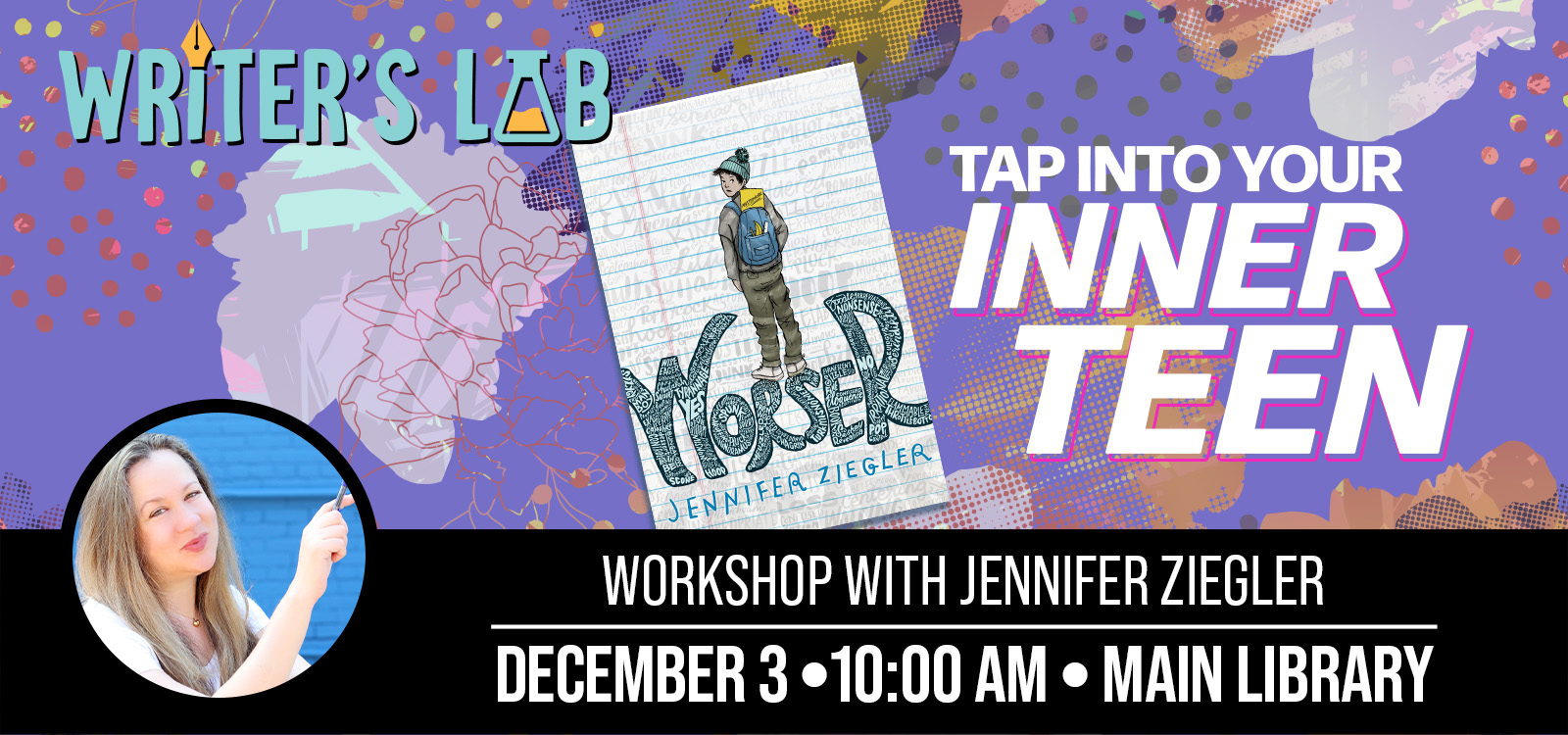 Are you an adult writing for a teen audience, but you're not sure you're doing it quite right? Join Worser author Jennifer Ziegler for a workshop all about diving into the mind of a teenager!
#JOIN:
Writer's Lab: Tap Into Your Inner Teen, on Saturday, December 3, from 10am-12pm, at the Main Library. 
Join Jennifer Ziegler, author of How Not to be Popular, for a workshop focused on writing for teens as an adult. By doing character exercises, you can "find" and develop your protagonists and better understand the topics, themes, and overall mindset needed to write novels for young audiences.
Register online here! 
Please note: you will not receive a copy of the presentation after the workshop, so be prepared to take notes!
Jennifer Ziegler is the author of several novels for young and young-at-heart readers, including Worser, Revenge of the Flower Girls, and How Not to Be Popular. She also serves as faculty co-chair of Vermont College of Fine Arts' MFA program in Writing for Children and Young Adults. A native Texan of Mexican American heritage, Jennifer lives in Austin with her husband (and favorite author), Chris Barton, and their boss, a terrier mix named Ernie. When not teaching or creating books, Jennifer loves to visit schools, festivals, and conferences to lead workshops and presentations, urging readers and writers to recognize their own powers and use them for good.
#READ:
To see how Jennifer does it, check out her books in our catalog!
#JENNIFER RECOMMENDS:
For more information about writing for kids, check out these sites:
Reflections for Beginner Writers, from Cynthia Leitich Smith
4 Ways to Ensure Your YA Novel Meets Teens' Interests & Expectations, from Writer's Digest
Motive Magic for the Middle Grade/Young Adult Writer, from Writer's Digest
What NOT To Do When Writing YA Books (Advice From a Teen Writer), from Writer's Digest