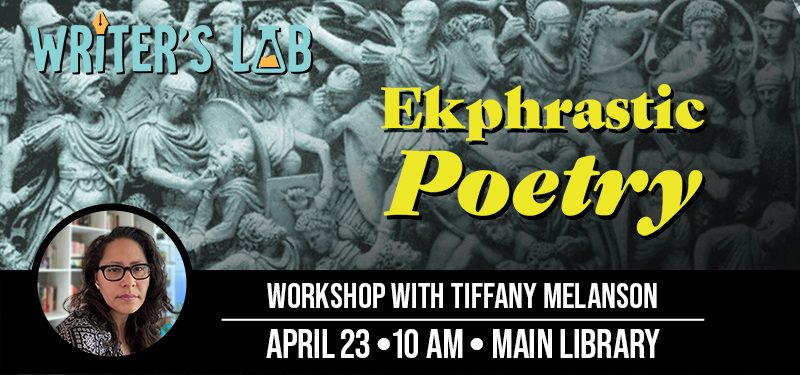 National Poetry Month is in full swing! If you've caught the poetry bug from one of our recent Lit Chats or from the great daily poems popping up all over social media and you want to try your hand at writing one, check out this great upcoming Writer's Lab workshop!
#JOIN:
Writer's Lab: Ekphrastic Poetry, on Saturday, April 23, at 10am at the Main Library.
Join local poet and educator Tiffany Melanson for this in-person workshop on ekphrastic poetry – poetry inspired by works of visual art. You'll find plenty of art to inspire you at the Main Library! 
Bring your favorite writing tools to participate in this workshop.Register online here!
Tiffany Melanson is a poet and arts educator. She is the author of the audio chapbook What Happens (EAT Poems), and her work has recently appeared or is forthcoming in Cutleaf Journal, POETRY Magazine, and Compose Journal, among others. She has been named a Bennington Writing Seminars Teaching Fellow, a Peter Taylor Fellow at the Kenyon Writers Workshop and received a Tin House writing residency. In addition, she teaches poetry workshops at Douglas Anderson School of the Arts where she is also the faculty sponsor of the student journal, Élan, and co-director of the Douglas Anderson Writers' Festival.
#READ:
Ekphrastic poetry is a broad style and is found in many poetry collections. Browse our large selection of poetry books or check out these recommended collections that contain at least one ekphrastic poem:
Imaginary Vessels, by Paisley Rekdal
Library of Small Catastrophes, by Alison Rollins
Night Sky with Exit Wounds, by Ocean Vuong
#EXPLORE:
For more information on ekphrastic poetry, check out these links:
Poetry Foundation – Ekphrasis: Ode on a Grecian Urn
Poets.org – Ekphrasis: Poetry Confronting Art
American Writers Museum – 5 Ekphrastic Poems By American Writers To Read Right Now