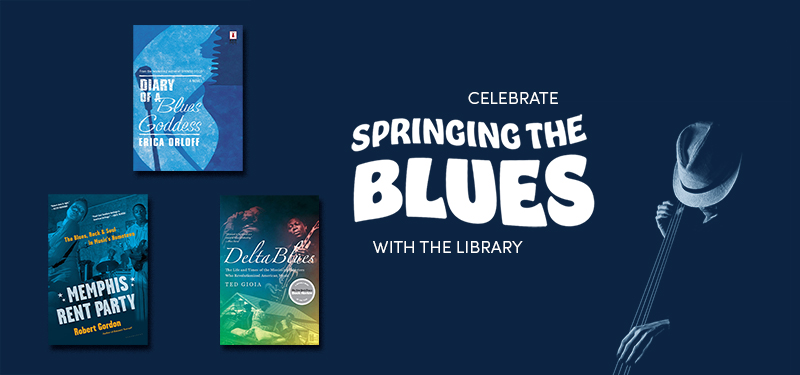 Blues on the beach
If you're a music fan, you might be heading to Jacksonville Beach this weekend (April 1-3) for "Springing the Blues" at Seawalk Pavilion. This free, three-day festival boasts an impressive lineup of national, regional, and local blues legends along with several emerging artists.
Listen to the blues anytime! Stream full albums instantly with Hoopla. It's FREE with your library card! And if you'd like to learn some music history, the Library has you covered there, too.
A uniquely American art form
The blues emerged from the plantations and juke joints of the Deep South after the Civil War when formerly-enslaved Black artists expressed the hardships and heartbreak of their experiences. For more about how the "rural" origin of the blues, check out Delta Blues by Ted Gioia.
Heart and soul
The blues aren't all sad. With the pain, there is also a strong desire for freedom and equality.
Blues Journey by Walter Dean Myers is a picture-book tribute filled with hope, joy, and love while Brian Robertson's Little Blues Book pairs words of wisdom from dozens of blues masters with the stunning illustrations of R. Crumb.
The music capitals
Blending traditional West African music, work songs, field hollers, and spirituals, this "melancholy" folk music would eventually migrate (during Jim Crow) to larger cities like New Orleans, Chicago and Detroit. Memphis Rent Party by Robert Gordon celebrates "Music's Hometown" and some of the people and places history has yet to record.
Branching out
New surroundings (and new instruments) brought about different styles and, eventually, entirely new genres like rock and roll. "The blues are the roots; everything else is the fruits." – Willie Dixon
The Blues: A Visual History by Mike Evans charts the history of the blues and the singers who brought it worldwide recognition.
Want more?