Tuesday, January 10, 2023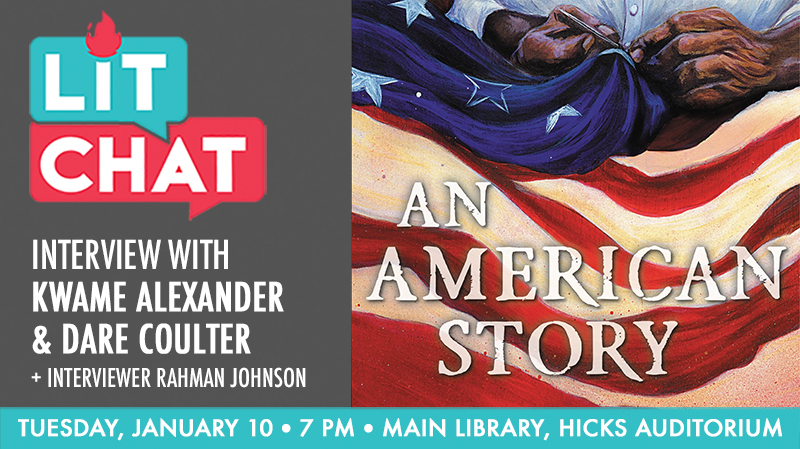 How do you talk to kids about slavery? In the new book, An American Story, New York Times bestselling author Kwame Alexander's unparalleled poetry combines with debut illustrator Dare Coulter's singular art to present a sweeping account of our country's founding. They'll join us (as part of a 10-city nationwide book tour) for an interview with Jacksonville's own Rahman Johnson to talk about how they put this book together and what they want readers to take away from it.
Note: The book and this interview program are intended for middle and high schoolers, educators, parents, and caregivers.
#Join the discussion
This special Lit Chat Interview with Kwame Alexander and Dare Coulter will take place at the Main Library's Hicks Auditorium on Tuesday, January 10 at 7 pm. Space is limited. If you cannot attend in person, the event will also be live-streamed via Zoom. This interview will not be recorded and will not be made available on the Library's "Completely Booked" podcast. Don't miss your chance! 
Kwame and Dare will sign books after the program. We recommend pre-ordering your book from our partner San Marco Books and More to guarantee a copy. A limited number of books will also be available for purchase on-site or you can bring your own copy to be signed.
---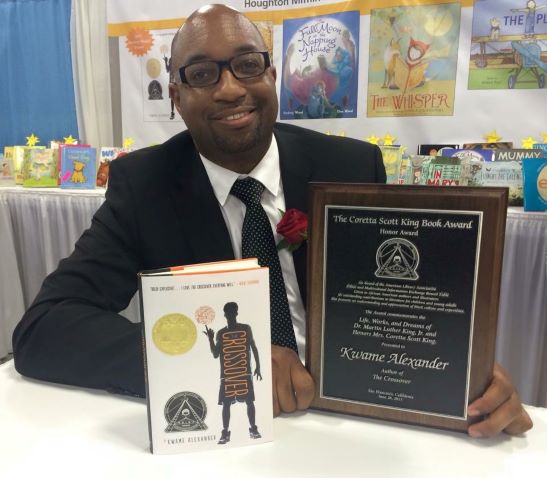 Author Kwame Alexander is a poet, educator, publisher, and New York Times bestselling author of 35 books, including the Caldecott Medal and Newbery Honor-winning picture book The Undefeated, illustrated by Kadir Nelson, the Newbery medal-winning novel, The Crossover (a forthcoming TV series on Disney+). He also co-authored the book Becoming Muhammad Ali (with James Patterson). He is also a regular contributor to NPR's Morning Edition. He invites you to visit him at kwamealexander.com. He can be found on Instagram and Twitter @kwamealexander.
You can check out one of Kwame's 35 books from the Library, including An American Story. 
Illustrator Dare Coulter is an award-winning artist, muralist, and sculptor whose primary artistic objective is to create positive imagery of black people and families. She lives in North Carolina but intends to have a global presence by installing sculptures depicting black joy around the world. She invites you to visit her at darecoulter.com and can be found on Instagram and Twitter @darecoulter.
Interviewer Rahman Johnson was born and raised in Jacksonville, Florida and graduated from Jean Ribault Senior High School. He has earned degrees from Edward Waters College and Seton Hall University. Rahman is currently Professor of Journalism and Communications at Edward Waters College, where he was named 2021 Professor of the Year. In 2020, Rahman chose to write a collection of poetry as a memorial to his late mother, Ida Ross-Johnson. The book, Living, Loving, Letting Go, earned the esteemed 2021 Book of the Year Literary Award in the poetry category from the Black Caucus of the American Library Association.
#Kwame Recommends:
#Dare Recommends:
"Being an artist is weird because people feel like it's just magic. It kind of is, but there's also a big part of it that involves studying and practicing! My recommendation is about building an active practice around the thing you're passionate about."
"One of the best things I had ever done for my art, without realizing it, was to carry a sketchbook. I had it all the time. When I was in the car I was drawing, when I was waiting for food to come out at restaurants I was drawing, when I was on the phone I was drawing, when I was listening to professors I was—you guessed it!—drawing. That established this fantastic mind-hand connection that I've unfortunately lost a bit since I've stopped carrying a sketchbook everywhere. I started carrying my iPad instead, and it hasn't translated to the same spontaneous sketching--I just do digital painting which is more of a final step than a foundational one. All of that to say, find the things that build your practice and do them. Keep them close and as intertwined in your daily process as you can!"
"And I also recommend that you check out Jacksonville's very own Christopher Clark @cooli_ras_art on Instagram. Not only is he a fantastic artist, but he also shares art and artists who inspire him!"