Tuesday, September 12, 2023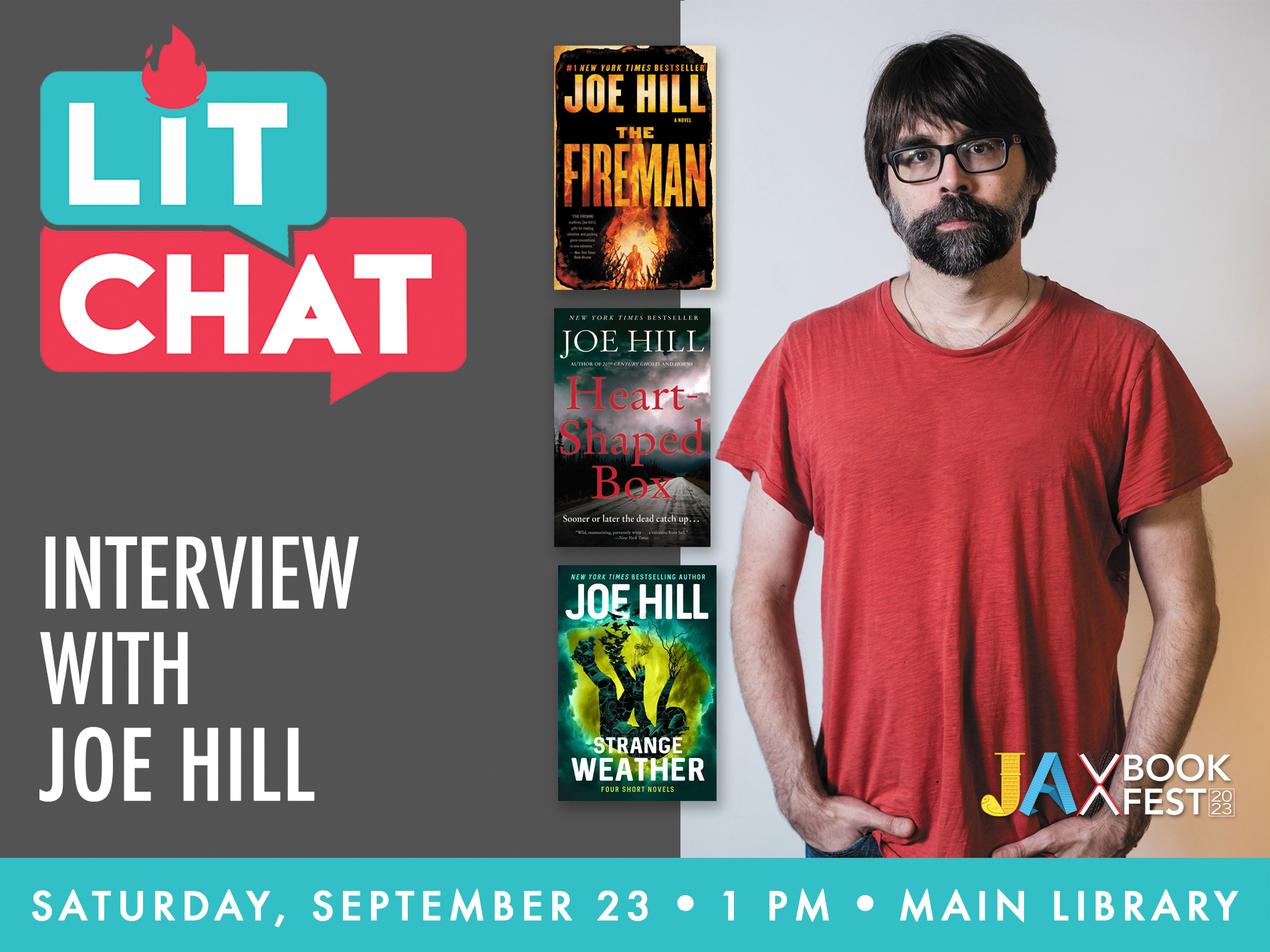 #Spooky Season Starts Early This Year
It's almost September, which means -- it's practically Halloween. We're also just weeks away from the return of Jax Book Fest at the Main Library! This year, our headliner is none other than Joe Hill! Many will know him from his many spine-tingling, bone-chilling horror novels like NOS4A2 (or the AMC series of the same name) or the big-screen adaptations of his work. Comic fans know him as the co-creator of the Eisner Award-winning series Locke & Key (now streaming on Netflix). Whatever you know him from... nothing beats getting to pick his brain, in person, at your local library!
"Locke & Key is the story of a New England mansion filled with impossible and enchanted keys... One of the keys is called the 'Head Key.' And you can stick it into the back of your neck and it will open the top of your head and it will show your private hidden world of thought." - Joe Hill
Get into the mind of Joe Hill, the #1 New York Times bestselling author of Horns, The Fireman, Heart-Shaped Box, and Strange Weather and our Jax Book Fest keynote speaker! 
---
#JOIN THE WRITER'S LAB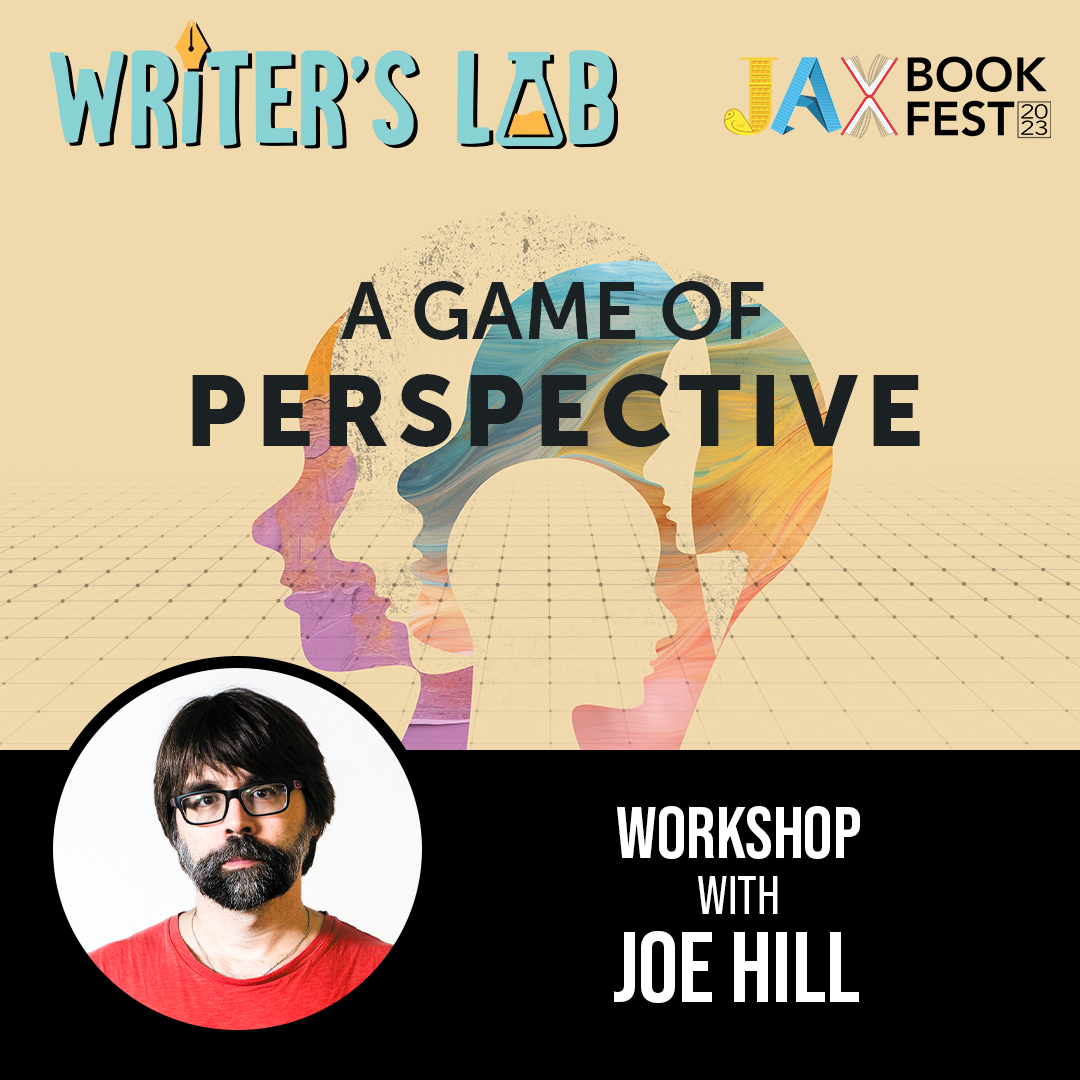 Join us at Jax Book Fest Writer's Day for a Writer's Lab: A Game of Perspective with featured author Joe Hill from 1:30 - 3 p.m. In this 90-minute workshop, you'll learn how to use point of view to unlock your best writing including how an agile use of POV can unlock possibilities and heighten the power of a moment.
Note: This program is currently full but you can join the waitlist. 
---
#JOIN THE LIT CHAT
Join us at Jax Book Fest for a Lit Chat Interview with Joe Hill on Saturday, September 23 at 1 p.m. live at the Main Library (or live on Zoom). Books will be available to purchase on-site from San Marco Books and More or you can bring a copy purchased from your favorite bookseller.
Seats Available! Register now!
---
Joe Hill is the #1 New York Times bestselling author of The Fireman, Heart-Shaped Box, and others. Much of his work has been adapted for film, including Horns (starring Daniel Radcliffe), the Blumhouse smash The Black Phone (adapted from his short story), and Locke & Key, a hit Netflix series based on the comic he co-created with artist Gabriel Rodriguez. He lives in New England.
Interviewer Badr Milligan is a project manager by day and a podcast creator by night. Since 2012, he has been vocal in sharing his interests with the world and amplifying the stories of others. He's the creator and host of the award-winning podcast, The Short Box: A Comic Book Talk Show, and recently launched The Nexxt Spin podcast for music lovers. In 2018, he helped form the Jax Podcaster's United Group, a collective of podcasters and audio creators dedicated to helping one another through collaboration and community. Badr is also an FSCJ alumnus and veteran of the Florida Air National Guard, using both experiences to run his own small business, The Short Box Entertainment Company. 
---
#READ
Check out all of Joe's work from the library!
#JOE RECOMMENDS
"Here in the early part of the 21st century, everyday life is full of noise and digital distractions – which makes it all the more important to find time for the cup of tea, the quiet corner, and a good novel. Even if all you can manage is twenty minutes of peaceful reading time, your brain will thank you. At the moment I'm especially stunned and moved by the work of Willy Vlautin. I guess he's the best American novelist writing right now. Check out The Night Always Comes but brace yourself – this novel comes hard for your heart. It's about one violent, bewildering, endless evening in the life of a young woman living on the ragged edge of poverty, and it left me staggered."

"I'm a horror guy, so no one will be surprised to hear that so far my favorite movie of the year has been Evil Dead Rise. It's really a film about the dissolution of the American Family… by way of woodchipper and chainsaw. Fellini it ain't; more like a bloody, gore-clogged, R-rated episode of The Three Stooges. So it's not for all tastes – but it suits mine just fine."

"For a long time, I wrote with the stereo on and the volume turned way up. AC/DC and Led Zeppelin were my noise of choice. These days, though, I tend to work in silence, the better to hear the voices in my head (and one of the best things about being a writer is I can spend all day listening to imaginary voices and I get paid for it instead of locked up). But when I'm doing some light revision, I might throw on some moody indie singer-songwriter stuff full of heartache and distorted guitar. The record by boygenius fits the bill and has been in regular rotation since it came out."
---
Be the first to know about upcoming Lit Chat author talks and more! 
---