Tuesday, September 12, 2023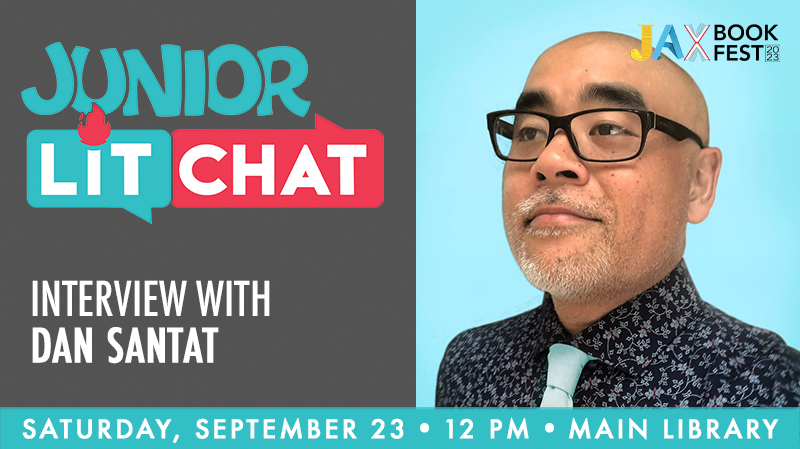 #From the Unimaginary...
#To Making Your Dreams Reality
Dan Santat is the author and illustrator of over a hundred books for young people including the New York Times–bestselling book After the Fall (How Humpty Dumpty Got Back Up Again). Though he's probably best known for The Adventures of Beekle: The Unimaginary Friend, the magical story of a would-be imaginary friend who sets off on a journey looking for the child he's destined to befriend!
"Each human being in this world is unique and I find it essential that in order to prepare our kids for the future we should engage with children in ways that make them understand that achieving their dreams is less about teaching everyone with the same common skill set and explore the idea of finding the thing that lights the fire in their hearts so that they can motivate themselves." - Dan Santat
Dan Santat joins us at Jax Book Fest to inspire the next generation of readers, authors, and artists. 
---
#JOIN
Families with children (ages 5-12): Don't miss this Junior Lit Chat with Dan Santat on Saturday, September 23 at noon during Jax Book Fest! The first 800 kids who stop by the Children's Room can also pick up a FREE Art Kit with all the supplies needed to make your own "Unimaginary" Friend!
Books will be available to purchase on-site from San Marco Books and More or you can bring a copy purchased from your favorite bookseller to be signed. Dan will sign books for one hour after the program.
---
Dan Santat is the Caldecott Medal award-winning and New York Times–bestselling author and illustrator of The Adventures of Beekle: The Unimaginary Friend and the road trip/time travel adventure Are We There Yet? 
His artwork is also featured in numerous picture books, chapter books, and middle-grade novels, including Dav Pilkey's Ricky Ricotta series. His latest works include the bestselling graphic novels, The Aquanaut and A First Time for Everything. He is also the creator of the Disney animated television series, The Replacements, and has worked with numerous other children's book authors and illustrators including Samantha Berger (Crankenstein), Minh Le (Drawn Together, Lift, The Blur), and Laurel Snyder (Endlessly Ever After).
Dan lives in Southern California with his wife, two kids, and many, many pets.
#READ
Check out all of Dan's work from the library!
#THE LIBRARY RECOMMENDS
More fun reads for kids!
---
Be the first to know about upcoming programs and events! 
---