Wednesday, December 28, 2022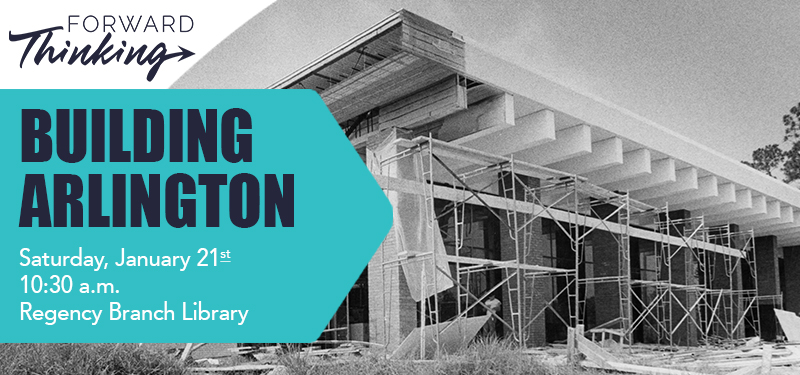 #JOIN
Forward Thinking: Building Arlington, Saturday, January 21 at 10:30 am in the Regency Square Branch Library. The panel discussion will focus on the past, present, and future of local structures unique to Arlington. This program is a part of Regency's 50th anniversary celebration. The program will conclude with an audience Q&A session.
---
Moderator Tim Gilmore is the author of 21 books and several works for the stage, and is the founder of the literary arts festival JaxbyJax. He's also the writer and creator of www.jaxpsychogeo.com, a project that explores nearly 600 stories of strange and historic locations in and around Jacksonville, Florida.
Panelist Steve Matchett is the President of Old Arlington Inc., a non-profit organization whose mission is to enhance and preserve the architecture, culture and history of the community. They provide various tours, advocate for their community, and promote and partner with other historical institutions in Arlington.
Panelist Ted Pappas is the architect behind some of our libraries including the Regency Square Branch, Webb Wesconnett Branch, and the Beaches Branch Library. He also worked on the restoration and repurposing of the Carnegie Library, Jacksonville's First Library designed by Architect Henry J. Klutho. He has also designed, renovated, and restored many other buildings in Jacksonville.
Panelist Josh Salestrom has worked for the National Park Service for the past nine years after serving eight years in the U.S. Army. He holds a Master's Degree in History from the University of North Florida, and is passionate about public history and helping people make connections with the past.
#READ
Our moderator, Tim Gilmore has several books available through the Jacksonville Public Library. You can check them out HERE
#EXPLORE