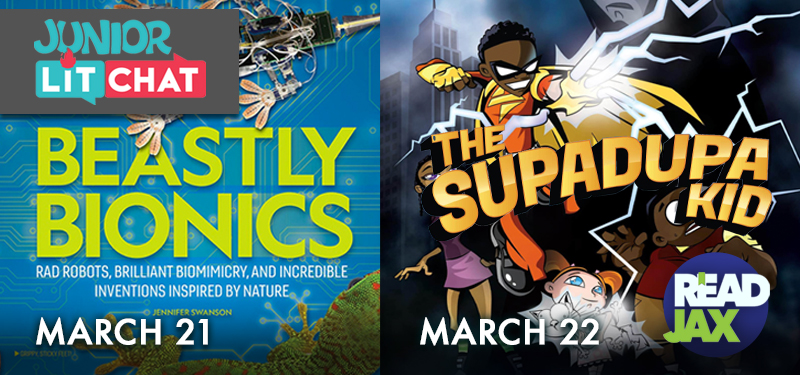 #Join Us For Our Special Reading Celebration Week Programs!
Kids Hope Alliance and the Jacksonville Public Education Fund invite everyone to participate in the kick off of a community-wide literacy initiative aimed at improving third grade reading proficiency and literacy for local youth. This initiative is designated as "Reading Celebration Week" and takes place from March 21st - 25th.
As part of this exciting week, the Library is hosting three free events that you and your family are invited to! Keep reading to learn how you can join in on the fun!
#Junior Lit Chat with Jennifer Swanson - Due to unforeseen circumstances, the Junior Lit Chat with Jennifer Swanson at the Pablo Creek Library is being postponed until April 11th at 6 PM. You will remain registered for this event and we hope to see you there!
April 11, 6:00 pm at Pablo Creek Library 
Get the kids ready and join us live for a presentation at Pablo Creek Library all about the bestselling book by National Geographic, Beastly Bionics. In this FUN and interactive Junior Lit Chat hosted by children's science author Jennifer Swanson, you will get an inside look at many awesome inventions being created by engineers right now!
Be one of the first 30 children at the event and receive a FREE copy of Beastly Bionics to keep!
Register here. 
#Junior Lit Chat with Ty Allen Jackson
March 22, 6:00 p.m. at Highlands Library
Join us live at the Highlands Library for a presentation all about The Supadupa Kid! Javon Williams was just a normal kid until a freak accident gave him amazing superpowers. In this fun and interactive presentation, you'll meet the author, Ty Allan Jackson and hear all about how he brought this superhero to life.
Be one of the first 15 children at the event and receive a FREE copy of The Supadupa Kid to keep!
Register here.
#We Love Our Library! 
March 26, 10:15 a.m. at the Main Library 
Join us for an early childhood celebration of literacy, complete with storytime, scavenger hunt, hands-on stations, special book readings, and goodie bags. For children birth to age 5 and their families. We can't wait to see you!
Register here.