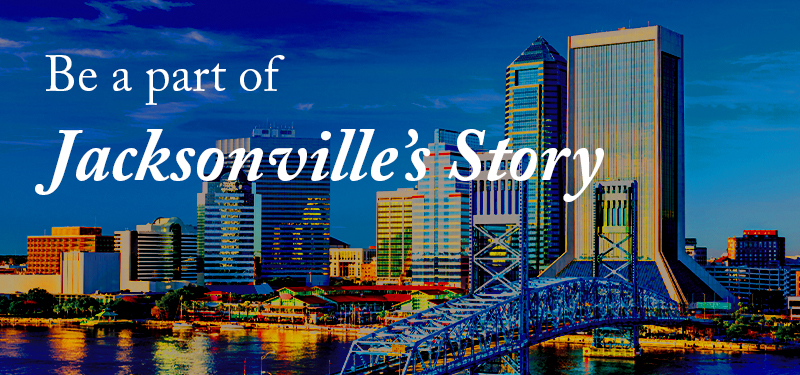 #Your Jacksonville Story
In 1927, Jacksonville Public Library Chief Librarian Joseph Marron mailed a signed letter, coupled with a questionnaire, to "a selected list of pioneers and prominent residents." His goal was "preserving local history and biography which might otherwise be lost." The letter garnered 55 responses and included architects, authors, attorneys, bankers, book sellers, doctors, and more.
Now, almost 100 years later, these "local history profiles" serve as valuable primary resources -- used by family and local history researchers.
#Leave your mark
This June, Jacksonville celebrates its 200-year anniversary. In light of this huge milestone, we're collecting another round of biographies. Only this time, we want everyone to get involved! We hope to make this collection as diverse as the population of today's Jacksonville.
 To make that easier, this version of the questionnaire is available online! So, you can access it from anywhere. Your story, your family history, and your vision for the future of this Bold City will become an official part of the library's collection and Jacksonville's history.

#Completing the Questionnaire
There are seven categories: family history, educational background, career, military experience (if applicable), personal identity/values, and community life. The last section is all about what you love about Jacksonville, what you miss and what you hope to change. Every question is entirely optional (think of them more as prompts). Just keep in mind: you never know what will be useful to future researchers.
Ask yourself:
How have you shaped – or been shaped by – this Bold City?

Do you know anybody else who should be included in this project?
At the end of the form, you will also be asked to submit a photo (such as a professional headshot) via email to SpecColl@coj.net. These will accompany the biographical sketches in the digital collection. Let us know if you have other photos or documents you'd like to share!
#A Growing Collection
You can check out an early preview of the digital collection here! We'll continue to add your Jacksonville stories to this historic, growing collection through the official Bicentennial celebration on June 11 and all the way through the end of 2022.