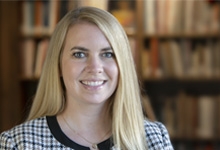 Virginia Berg is the Director of Major Gifts for the Jacksonville University College of Law. Prior to joining JU, she served as Chief Development Officer for a literacy-focused non-profit and also as Director of Government Relations and Community Engagement for Florida State College at Jacksonville (FSCJ). Before moving to Jacksonville, Virginia served as Appointments Director to Governor Rick Scott as well as Finance Director for Let's Get to Work PC.
Prior to joining FSCJ, Virginia worked with VisionFirst Advisors, an Economic Development Consulting Firm led by former head of EFI, Gray Swoope.
Virginia received her bachelor's degree from Auburn University and is currently pursuing her MBA from the University of West Florida.