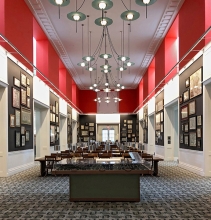 It all started with the gift of an antique map from his son. After that, local attorney Lewis Ansbacher collected historical maps for years to come. The Lewis Ansbacher Map Collection features more than 240 antiquarian maps from around the world, in addition to historical views and plates focusing on North Florida.
As part of their legacy, the Ansbacher Family Foundation donated the Collection both to support the library and to inspire lifelong love of learning.
The Ansbacher Map Collection has a sub-collection of the Le Moyne-De Bry engravings located in the Jordan & Shirley Ansbacher Gallery in the Special Collections department.
Click the map for a tour