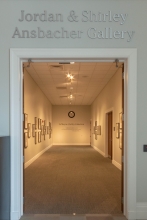 The Ansbacher Map Collection has a sub-collection of the Le Moyne-De Bry engravings located in the Jordan & Shirley Ansbacher Gallery in the Special Collections department.
In 1562 French naval officer, navigator and colonizer Jean Ribault discovered the St. Johns River, and claimed the surrounding land for France. This claim brought about a struggle between imperial Spain and France for control and dominance of the New World.
Two years later Rene de Laudonniere established a settlement at Fort Caroline, creating a foothold in Florida for France, and setting a course for a confrontation with the Spanish. Artist Jacques Le Moyne, who served as the official mapmaker on Laudonniere's expedition, made drawings that portrayed the life and culture of Florida natives, including the Timucua, at the new settlement.
In 1565 Pedro de Menendez, intent on destroying the French, established St. Augustine, and conquered Fort Caroline for the Spanish. Le Moyne was one of the few French to escape. His drawings of native life in the New World were made into engravings by Flemish engraver Theodor De Bry who published the collection in 1591.
The Le Moyne/De Bry Collection comprises 43 engravings in the Jordan and Shirley Ansbacher Gallery, which is part of the Lewis Ansbacher Map Collection at the Jacksonville Public Library.
Narrative of Le Moyne, an Artist Who Accompanied the French Expedition to Florida under Laudonnière, 1564, translated by Frederic B. Perkins (Boston: J.R. Osgood and company, 1875).