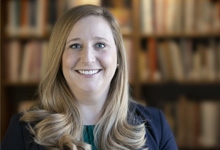 Molly McLendon is a Senior Attorney at Children's Legal Services for the Department of Children and Families. She has prior experience as an Assistant State Attorney and as a Legal Recruiter working throughout Florida. 
Molly graduated from Florida State University with bachelor's degrees in Communications and Criminal Justice with minors in Business and Political Science. She graduated with her J.D. from the University of North Carolina School of Law in Chapel Hill in 2015. 
Molly is a North Florida native and hopes her work on the Board of Library Trustees can help connect underserved populations with the incredible resources our libraries have to offer. She lives in Murray Hill with her black lab mix, Winnie.