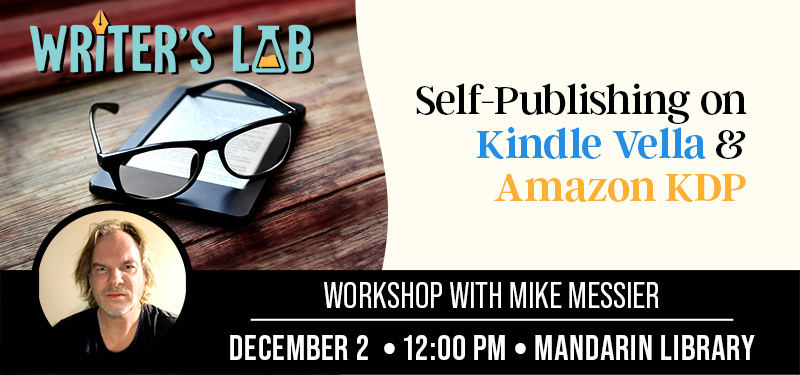 #Are You Ready to Self-Publish?
If you plan to come out of National Novel Writing Month with a ready-to-publish manuscript (or you just want to plan your next steps), join us at Writer's Lab in December for a hands-on how-to session with Mike Messier. He will instruct you, step-by-step, on how to write and publish fiction and nonfiction on Kindle Vella & Amazon KDP. If you bring your finished manuscript, you could even leave with a published book!
#JOIN
Writer's Lab: Self-Publishing on Kindle Vella & Amazon KDP, on Saturday, December 2, from 12-2 p.m. at the Mandarin Branch Library.
#Pre-class homework:
Go to kdp.amazon.com on a laptop computer (not a phone, desktop, or tablet).
Click Sign up if you don't have an Amazon account, or Sign in if you do.
Click Create your KDP account and enter your name, email address, and a secure password.
Follow the instructions to complete your account setup and download the KDP app to your laptop.
Bring that same fully charged laptop computer to the workshop. 
Note: This workshop is intended for those who want to write and publish fiction and non-fiction (not "low-content books" such as calendars). 
---
Mike Messier is a 70-time award-winning producer, screenwriter, director, TV host, and actor.  Mike is also a playwright, acting coach, live event host, and guest speaker. He has written several books now available on Amazon including the gothic horror A Distance from Avalon and the young adult sports novel Fight or Play Basketball. Mike's other books on Amazon include the graphic novel Wrestling with Sanity and Art and War of Directing Student, Low & No Budget Movies: A Primer for Creating and Participating in Independent Films, Television & Web-Series.
As an Actor, Mike has shared scenes with Meryl Streep & Elisabeth Shue in Hope Springs, Mario Van Peebles, Wesley Snipes & Cybill Shepherd (as her son) in Hard Luck, and Eric Roberts and Jason London in Mr. Birthday.  Mike's YouTube Channels include 1 Man and a Camera Films, 1 Artist Mike Messier, and 1 Pro Wrestling and Sports Fan. 
Mike also founded "Avalonia Festival of Short Films etc" which has its next live event on November 4 in Atlantic Beach, Florida. Go to mikemessier.com and avaloniafestival.com for more information. 
#MIKE RECOMMENDS
---
Be the first to know about upcoming Writer's Lab workshops and more! 
---