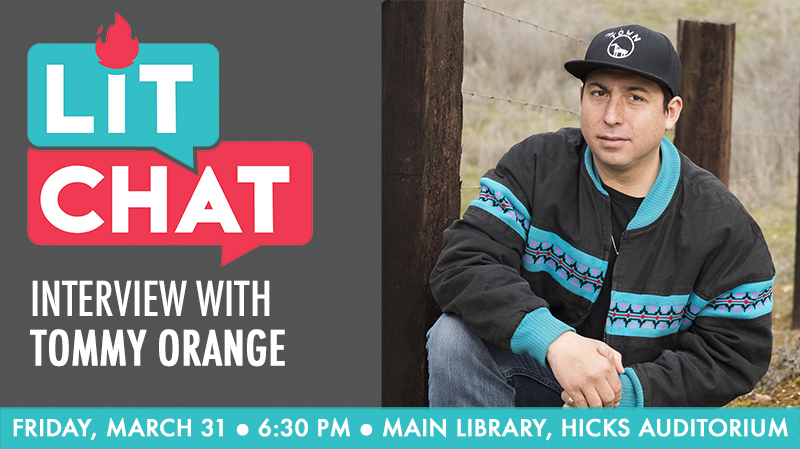 March 27 - April 1 is Celebrate Reading Week in Jacksonville! The Jacksonville Public Library is partnering with the Kids Hope Alliance, Duval County Public Schools, READ USA, and several other organizations to showcase the power of reading for kids around the city.
If you're a parent, you know it's important for your kids to see you reading for enjoyment. But as adults, we're all reading role models! The more we use the Library, talk about books, and attend awesome author events and book signings, the more literate (and well-read) Jacksonville becomes.
#Join us!
Celebrate reading with your community at a special event with bestselling author Tommy Orange! This exciting Lit Chat Interview happens Friday, March 31 at 6:30 p.m. You can attend in person at the Main Library's Hicks Auditorium or join the live stream via Zoom. Note: After-hours programs like this one in the Conference Center are accessible via our "special events" entrance, located at 304 N. Main Street. 
A book signing will follow the interview. Books will be available to purchase on-site from San Marco Books and More or you can bring a copy purchased from your favorite bookseller.
---
Tommy Orange is the author of the New York Times bestselling novel There There, a multi-generational, relentlessly paced story about a side of America few of us have ever seen: the lives of urban Native Americans. There There was one of The New York Times Book Review's 10 Best Books of the Year, and won the Center for Fiction's First Novel Prize and the Pen/Hemingway Award. There There was also longlisted for the National Book Award and was a finalist for the Pulitzer Prize. Orange graduated from the MFA program at the Institute of American Indian Arts, and was a 2014 MacDowell Fellow and a 2016 Writing by Writers Fellow. He is an enrolled member of the Cheyenne and Arapaho Tribes of Oklahoma. He was born and raised in Oakland, California.
Interviewer Prof. Nicole Nesberg, Migizi Miigwan (Eagle Feather), is a Designated Faculty member at Santa Fe College in Gainesville, Florida. She has worked as a history professor for the past 20 years with an emphasis on race and gender on Turtle Island. Her dissertation research focused on women and urbanization to Chicago in the 1950s and 60s. Born in the Upper Peninsula of Michigan, she is a member of the Sault Tribe of Chippewa Indians and descended from the Crooked Tree Odawa. She migrated to Florida in 2005 where she is happily married and raising two boys.
#Read the Book
Check out Tommy's book, There There, in a variety of formats (including a Spanish translation)!
#Nicole Recommends
Start with authors highlighted in There, There such as Louise Erdrich, Sherman Alexie, and Linda Hogan.
Check out the PBS documentary Rumble: The Indians Who Rock the World. 
In the state of Florida, the Seminole Tribe has an annual pow-wow. Find a list of upcoming pow-wows here. You can also attend the annual Seminole War reenactment at Dade Battlefield Historic State Park.
---
Celebrate Reading Week wraps up with a Family Reading Day on Saturday, April 1 from 10 a.m. - 1 p.m. at James Weldon Johnson Park (across from the Main Library). There will be book giveaways, a children's book character parade, special appearances by Jacksonville Zoo and your favorite PBS characters, and more! A FREE boxed lunch from Firehouse Subs will also be provided!