Tuesday, January 17, 2023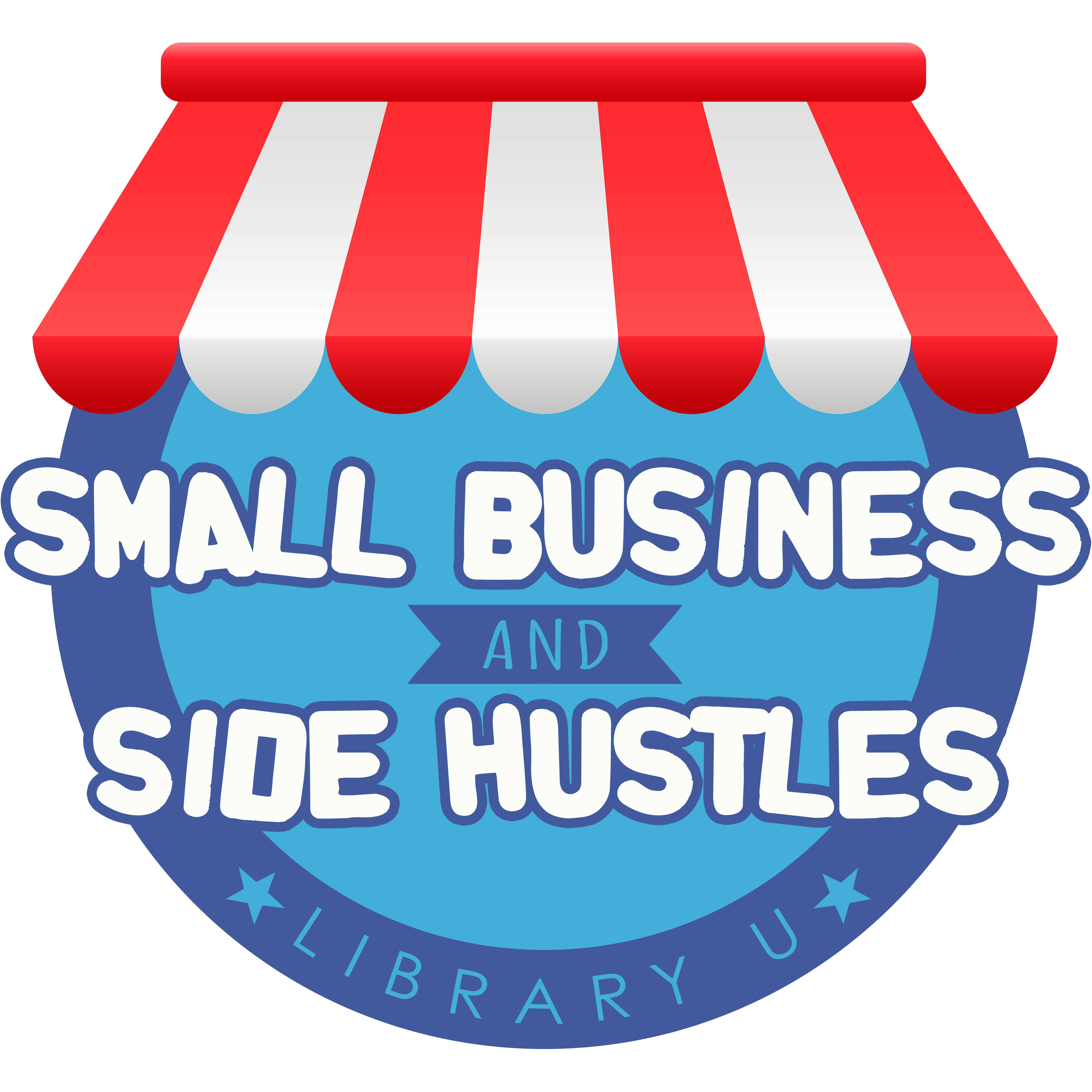 It's 2023! Is this the year you... Make your hobby a side hustle? Start your own business? Or work on taking your business to the next level?
Note: The "Small Business and Side Hustles" newsletter is going monthly! That means even more opportunities to connect you to Library and community resources and programs to help you start or build your business!
This month, we're showcasing some great books as well as some on-demand video courses with LinkedIn Learning. Next month, we'll feature an interview with a local business owner and see what books have helped them! Sign up on the Library U enrollment page to get the newsletter delivered straight to your inbox!
---
#Featured Books
For some people, the thought of quitting their day job to strike out on their own as an entrepreneur is exhilarating. For many others, it's terrifying. After all, a stable job that delivers a regular paycheck is a blessing. And not everyone has the means--or the desire--to take on the risks and responsibilities of working for themselves. But what if we could quickly and easily create an additional stream of income without giving up the security of a full-time job? Enter the side hustle. Chris Guillebeau has launched more than a dozen side hustles over his career. Here, he offers a step-by-step guide that takes you from idea to income in just 27 days.
Based on the highly acclaimed NPR podcast, How I Built This with Guy Raz, this book offers priceless insights and inspiration from the world's top entrepreneurs on how to start, launch, and build a successful venture. Great ideas often come from a simple spark: A soccer player on the New Zealand national team notices all the unused wool his country produces and figures out a way to turn them into shoes (Allbirds). A former Buddhist monk decides the very best way to spread his mindfulness teachings is by launching an app (Headspace). A sandwich cart vendor finds a way to reuse leftover pita bread and turns it into a multimillion-dollar business (Stacy's Pita Chips).
Ben Horowitz, the cofounder of Andreessen Horowitz and one of Silicon Valley's most respected and experienced entrepreneurs, offers essential advice on building and running a startup. While many people talk about how great it is to start a business, very few are honest about how difficult it is to run one. Ben Horowitz analyzes the problems that confront leaders every day, sharing the insights he's gained developing, managing, selling, buying, investing in, and supervising technology companies.
---
#Featured Resource
Learn relevant, professional skills on LinkedIn Learning. All you need is your library card and PIN to enjoy unlimited FREE access to 16,000+ on-demand courses in several languages – all taught by passionate, expert instructors with real-world experience.
Using the LinkedIn Learning mobile app? The Library ID (case sensitive) is: jaxpubliclibrary.