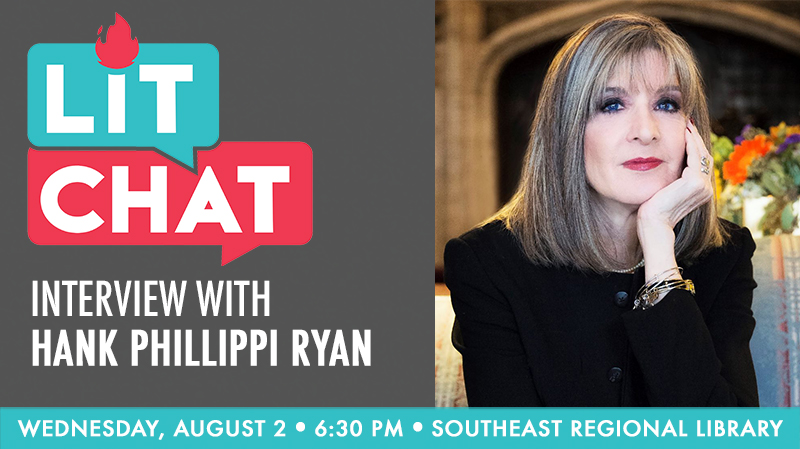 #You Never Know What's Around the Next Corner
Hank Phillippi Ryan has never liked surprises. She hated them so much in, fact, that long ago, she started reading the last page of books first. But even a lifetime of avoiding surprises hasn't kept her from being surprised (and often delighted) by the endings to her own books!
This bestselling author knows how to craft thrilling tales that will leave you guessing until the very end... Hear her talk with one of Jacksonville's own mystery and detective novelists, Michael Wiley, about what it takes to write crime and thrillers. An audience Q&A will follow the interview.
#Join the Lit Chat
Lit Chat Interview with Hank Phillippi Ryan, Wednesday, August 2 at 6:30 p.m. This event will take place live at the Southeast Library and live via Zoom. A limited number of books will be available for purchase on-site from our partner bookstore, The Bookmark, or you can bring your own copy to be signed.
---
Hank Phillippi Ryan is the USA Today bestselling author of 14 psychological thrillers, winning the most prestigious awards in the genre: five Agathas, five Anthonys, and the coveted Mary Higgins Clark Award. She is also an on-air investigative reporter for Boston's WHDH-TV, with 37 EMMYs and dozens more journalism honors. National book critics call her "a superb and gifted storyteller"; she's the only author to win the Agatha in four categories: Best First, Best Novel, Best Short Story and Best Non-Fiction. A story of psychological manipulation exploring the dark heart of marriage and friendship, her newest page-turning standalone thriller, The House Guest, has been dubbed "Gaslight meets Thelma & Louise."
Hank is also the host of Crime Time on A Mighty Blaze and co-host of First Chapter Fun and The Back Room. She is a past president of National Sisters in Crime. Visit Hank at HankPhillippiRyan.com, Twitter @HankPRyan, Instagram @hankpryan and Facebook at HankPhillippiRyanAuthor. 
#On Surprises and Suprise Endings
You can also check out Hank on Crime Time, First Chapter Fun, and The Back Room.
---
Interviewer Michael Wiley's new novel is The Long Way Out, featuring Franky Dast, an exonerated ex-con who investigates a series of murders in Northeast Florida. Michael is also the author of three mystery and detective series, including the Shamus Award-winning Joe Kozmarski books, the Daniel Turner thrillers, and, most recently, the Sam Kelson PI novels, which are currently in development for television. His short stories appear often in magazines and anthologies, including Best Mystery Stories of the Year 2022. 
#Read
Check out all of Hank's books from the library!
#The Library Recommends
Read similar books from other authors, including: