Wednesday, August 23, 2023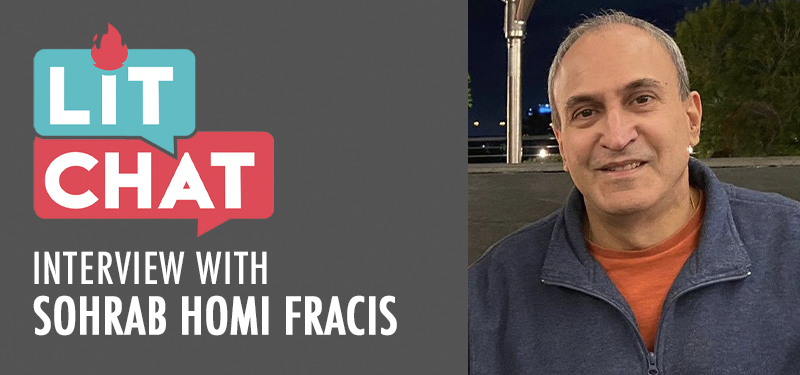 The big names headlining Jax Book Fest were all little names, once, which is why we're always delighted to spotlight our local up-and-coming authors! Newly award-winning author Sohrab Homi Fracis kicks off our Book Fest week with an interview about his latest book and what it means to be a writer today.
#JOIN
Lit Chat Interview with Sohrab Homi Fracis, Monday, September 18 at 6:30 p.m. This event will take place live at the Willow Branch Library and will be livestreamed online via Zoom. Books will be available to purchase on-site from The Bookmark or you can bring a copy purchased from your favorite bookseller.
---
Sohrab Homi Fracis's new book of North Florida and elsewhere stories, True Fiction, won the 2023 International Book Award for story collections. American Book Award winner Rilla Askew says of it: "True Fiction is a tour de force." Fracis is the first Asian American author to win the Iowa Short Fiction Award, described by the New York Times Book Review as "among the most prestigious literary prizes America offers," for his first book, Ticket to Minto: Stories of India and America. Publishers Weekly called it "A reminder of how satisfying the short story form can be...the work of an impressive new talent." 
His novel, Go Home, was shortlisted by Stanford University Libraries for the William Saroyan International Prize. Singapore Poetry described it as "newly poignant and even heartbreaking." He taught literature and creative writing at University of North Florida. He was Twin Cities Visiting Writer in Residence at Augsburg College and Artist in Residence at Yaddo. He received the Florida Individual Artist Fellowship in Literature/Fiction. The South Asian Literary Association bestowed on him its Distinguished Achievement Award.
Interviewer Michelle Lizet Flores is a graduate of FSU and NYU creative writing programs. She currently works as a teacher and co-hosts the What's in a Verse Poetry Open Mic in Jacksonville, FL. She has previously been published in magazines and journals such as The Miami Rail, Chircú Journal, and Travel Latina. A finalist for the Juan Felipe Herrera Award for Poetry, she is the author of the chapbooks Cuentos from the Swamp and Memoria, as well as the picture book, Carlito the Bat Learns to Trick or Treat. Her short fiction can be found in the anthology, Places We Build in the Universe through Flowersong Press. Her first full-length collection of poetry, Invasive Species, is forthcoming through Finishing Line Press. Find out more at michellelizetflores.com.
#READ
Check out Sohrab's work from the library!
#SOHRAB RECOMMENDS
In addition to books and movies, I also love music and sports. Lately my Spotify playlists center around contemporary folk rock by such musicians as The Paper Kites, Birdtalker, Plains, Ondara, Bonny Light Horseman, and River Whyless. Some of my characters are aspiring musicians, as in "Open Mic," the first story in True Fiction.
Playing college sports in India taught me to hang in there when things were going wrong and then to turn them around. I still follow professional tennis and not long ago watched stars such as Rafael Nadal, Roger Federer, and Venus Williams live at the Miami Open. I'm excited about the resurgent Jacksonville Jaguars. Go Jags! I see sportsmen as contemporary gladiators. Having been one helped me write the battlefield combat scene in True Fiction's concluding/signature novelette, "The Legend of Rostam and Sohrab," based on my ancient-Persian naming legend.
---
Be the first to know about upcoming Lit Chat author talks and more! 
---