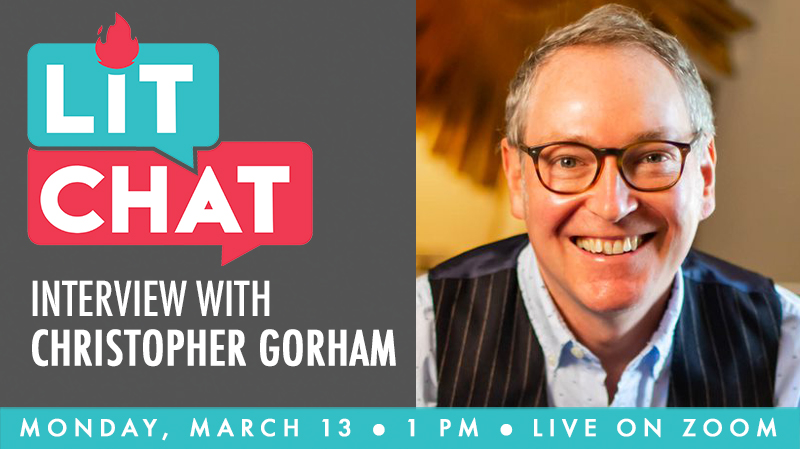 For Women's History Month, join us for a discussion about a little-known figure in American history, Anna Marie Rosenberg. Author Christopher Gorham in his book The Confidante highlights the contributions of Rosenberg, a Hungarian Jewish immigrant who became FDR's "Mrs. Fix-It". Gorham will discuss Rosenberg and the process of researching her in this Lit Chat Interview.
#JOIN
Lit Chat Interview with Christopher Gorham, Monday, March 13 at 1 p.m. This event will take place online via Zoom.
Christopher Gorham is a lawyer and teacher of modern American history at Westford Academy, outside Boston. He has degrees in history from Tufts University and the University of Michigan, where he studied under legendary historian Sidney Fine. Gorham has a J.D., summa cum laude, from Syracuse University College of Law, where he served on the editorial staff of the Syracuse Law Review. His writing has appeared in The Washington Post and in online journals.
Interviewer Kelsi Hasden is an adjunct professor of composition at the University of North Florida and Florida State College at Jacksonville. She holds a Bachelor's degree in English focusing on Postcolonial theory and Women's studies and a Master's degree in Rhetoric and Composition. She writes about a range of issues and events, dines out as often as she can, and attends events around Jacksonville. Kelsi writes and edits articles for The Jaxson and Modern Cities.
#READ
Check out The Confidante in print, digital, and audio in our catalog!
#CHRISTOPHER RECOMMENDS
Here are the three books I found especially enlightening as I wrote The Confidante.
Kristin Downey's The Woman Behind the New Deal: The Life and Legacy of Frances Perkins is the story of the progressive whose wish list essentially became the New Deal (minimum wages, Social Security, etc.). Perkins was the first woman cabinet member in American history, serving as Secretary of Labor for the entirety of Roosevelt's presidency (1933-1945). Personally, Perkins was not particularly warm and could be seen as rather mirthless. But her legacy as a New Deal heroine is deserved and her prominence in FDR's cabinet underscores how much Roosevelt respected competence regardless of sex or ethnicity.
FDR and Perkins went back to his days as Governor of New York, and even before that, women played a large role in his professional life. In The Gatekeeper: Missy LeHand, FDR, and the Untold Story of the Partnership That Defined a Presidency, by Kathryn Smith, we learn that after Roosevelt contracted polio in 1921, Roosevelt brought on Marguerite "Missy" LeHand, a working-class woman from Somerville, Massachusetts as his secretary. In time, she became much more. When FDR became President in 1933, Missy came to Washington. She was not only the gatekeeper of his social and professional calendar but was essentially his Chief-of-Staff until a series of strokes incapacitated her in 1940-41. It was at this time, as I discuss in my book, that Anna Rosenberg became part of FDR's innermost circle.
The dual struggles for equality in defense work and desegregation of the armed forces were undertaken within the Roosevelt White House by Mary McLeod Bethune, Robert Weaver, Bill Hastie, Al Smith, and Robert Vann. Bethune was the leader of the "Black Cabinet," but the men alongside her performed admirable work in the service of advancing the Black cause. In her excellent book, The Black Cabinet: The Untold Story of African Americans and Politics During the Age of Roosevelt, Jill Watts describes the successes of the Black Cabinet—and the challenges: all five risked losing their jobs, being cashiered to faraway agencies, or being labeled Communist by reactionary congressmen.