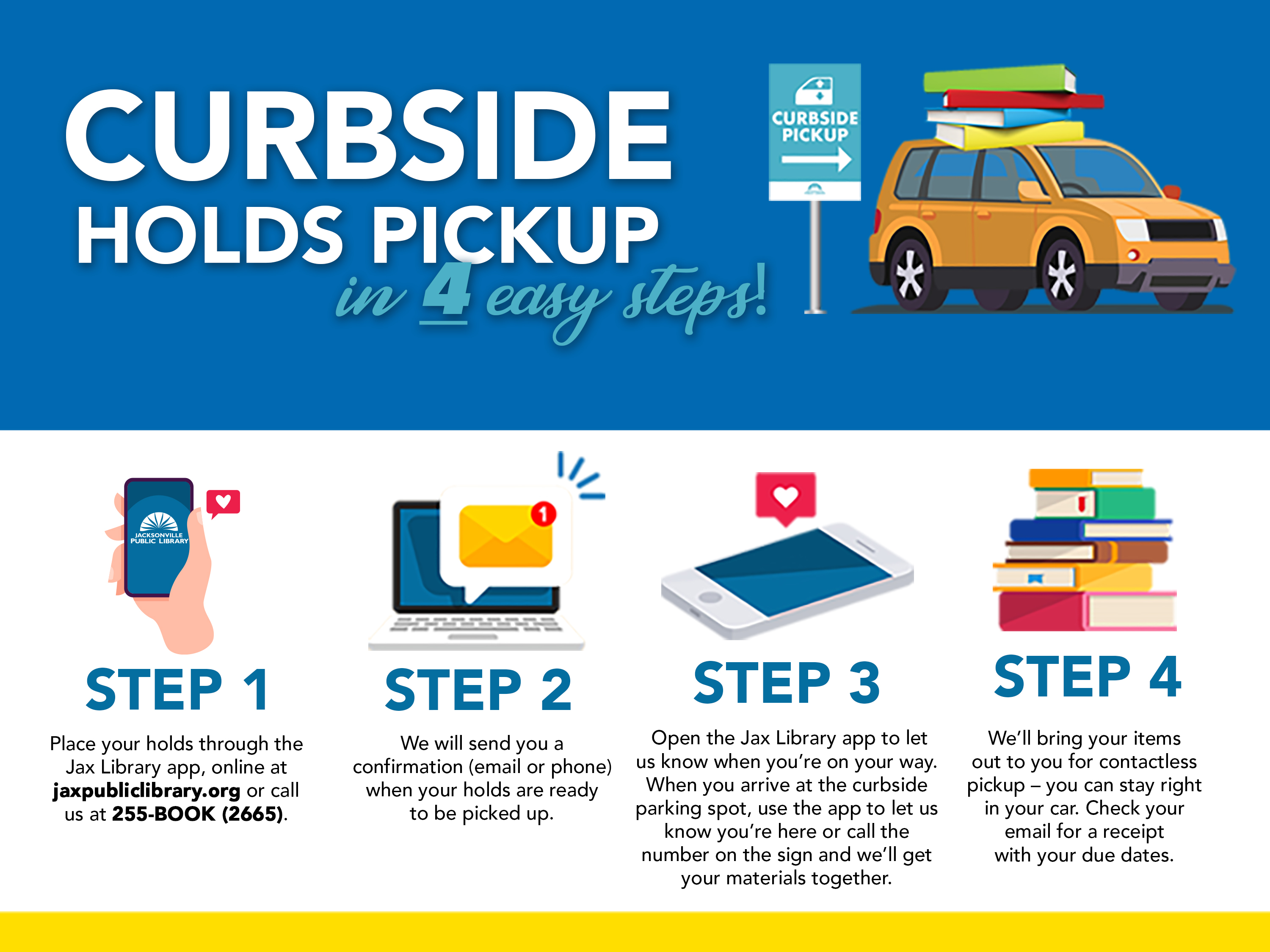 Getting your Library materials in a socially distant fashion, with grab-and-go curbside pickup service just got easier. 
We know that most people who check out physical books, DVDs and CDs from the Library are dying to get their hands on those materials again and we are taking steps to make it easier for you. 
There are more than 2,000,000 items in Jacksonville Public Library's collection just waiting to unlock that feeling, and with library locations now offering curbside pickup you can start enjoying those hard copy books once again. Just follow the instructions below!
#1. Place your hold
Visit the home page of this website (www.jaxpubliclibrary.org), search for something in the catalog and place it on hold. Pick where you want it to go and we'll ship it there for you.
Need help or not sure exactly what you're looking for? No problem! Call us at (904) 255-BOOK (2665), press Option 2 and our friendly staff will help.
Pro tip: Hold doesn't always mean "go on a waiting list." You can use the hold feature to have a book sent right from one branch/location to the one you want!
#2. Get notified
We will send you a confirmation (email or phone) letting you know that your item(s) are ready for you to pick up. 
Pro tip: Do you have questions? No problem! Call us at (904) 255-BOOK (2665), press Option 2 and our friendly staff will help.
#3. Come and get it
Open the Jax Library app to let us know when you're on your way. When you arrive at the curbside parking spot, use the app to let us know you're here or call the number on the sign and we'll get your materials together. 
#4. You're off!
The staff will bring your items out to you for a contactless pickup experience. They'll place them in your trunk, back seat, passenger seat, rumble seat... whatever works for you! We'll include a receipt with your due dates.
#BONUS TIP: Visit mid-day for faster curbside service!
Want speedier pickup? Try visiting during less busy times! Our staff has reported that mid-afternoons are often pretty slow. Plan to come by around 2 or 3 pm and you'll likely be in and out in a flash with concierge service.
You can read more about curbside pickup, library reopenings, health and safety precautions and more on the Reopening FAQs page. 
We look forward to seeing you all soon!
Originally published on July, 11, 2020. Updated in April 2021.