Thursday, February 2, 2023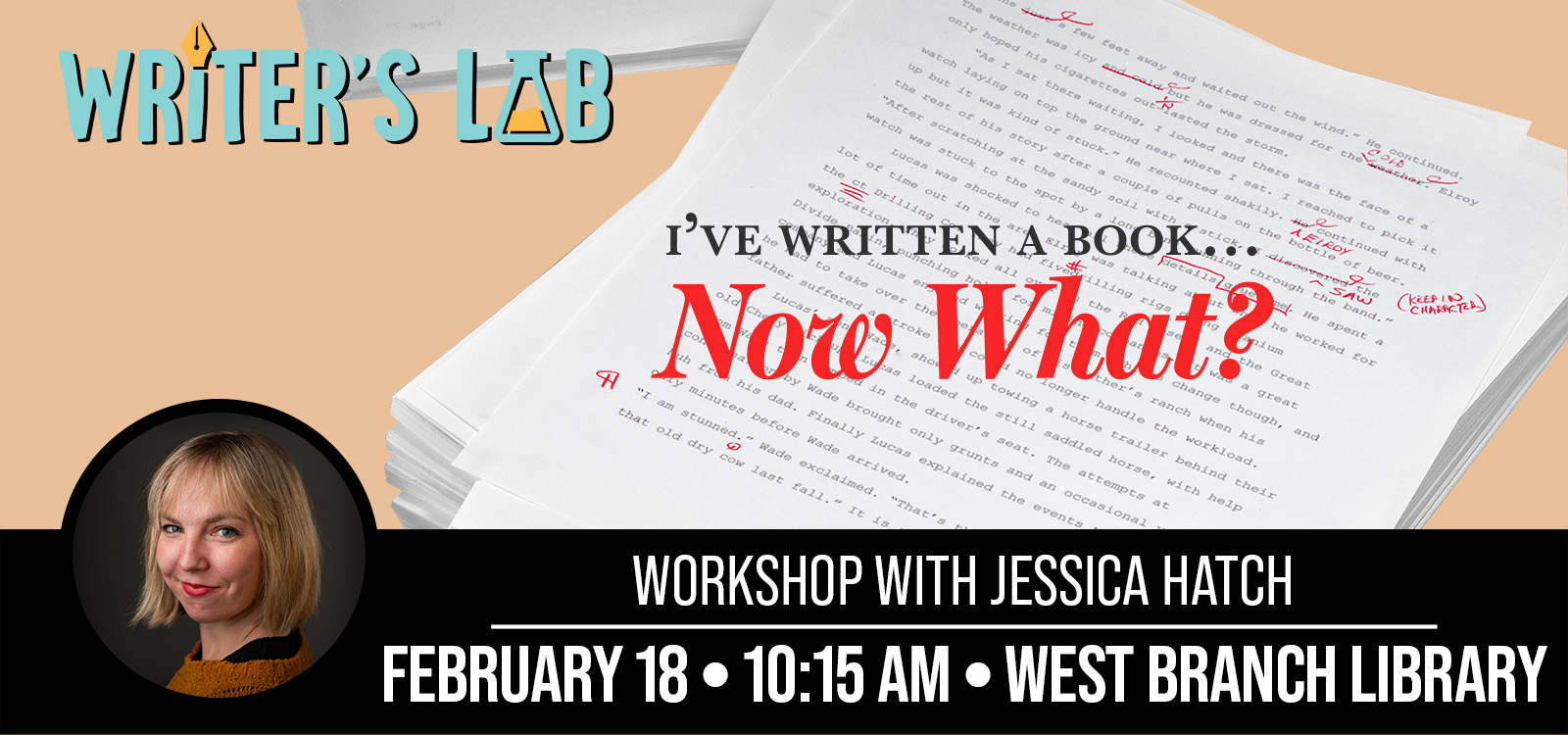 You've crafted your characters or researched your subjects, found a great hook, and written tens of thousands of words in the process. Are you done with your book? Not quite yet! Now it's time to look over every chapter and edit it to make it shine! You can do this yourself or bring in the professionals, and one of those professionals is here to help you figure it out!
#JOIN
Writer's Lab: I've Written a Book... Now What?, on Saturday, February 18, from 10:15 - 11:45 a.m. at the West Branch Library.
"I've Written a Book... Now What?" is an immersive workshop for writers with a completed manuscript who are now exploring the wide world of revision. Professional freelance editor and novelist Jessica Hatch will walk attendees through the phases of the editing process and provide advice and best practices on self-revision as well as hiring beta readers and freelance editors. A Q&A session will follow.
---
Jessica Hatch is a professional freelance editor and novelist with more than a decade of publishing experience. She worked her way through the slush pile at New York-based literary agencies like Writers House, New Leaf Literary & Media, and Fox Literary Management, and learned what attracts readers to a book at St. Martin's Press. Jessica's editorial clients have gone on to receive partial and full manuscript requests from agents, to earn Kirkus starred reviews and placement on Best Book of the Year lists, and to win national awards. As a writer, Jessica has won pitch wars; attended juried workshops in Aspen, London, and Rome; and has been published in The Millions, Writer's Digest, Fast Company, Burrow Press, and Babes Who Hustle, among others. Her debut novel, My Big Fake Wedding, debuted at #1 on Amazon's Humorous American Literature charts. Learn more and book her editing services at www.hatch-books.com.
#READ
In addition to her own novels, Jessica has edited many published works in fiction and non-fiction. A small selection of these books includes Antisocial Media, Becoming Lyla Dore, Hope After Stroke, The Rose and the Crane, Squircle, and works by Kay Dew Shostak, Monica McCallen, and Laura Morelli.
#JESSICA RECOMMENDS
For Self-Revision
For Finding Freelance Editors
For Querying Practices and Resources