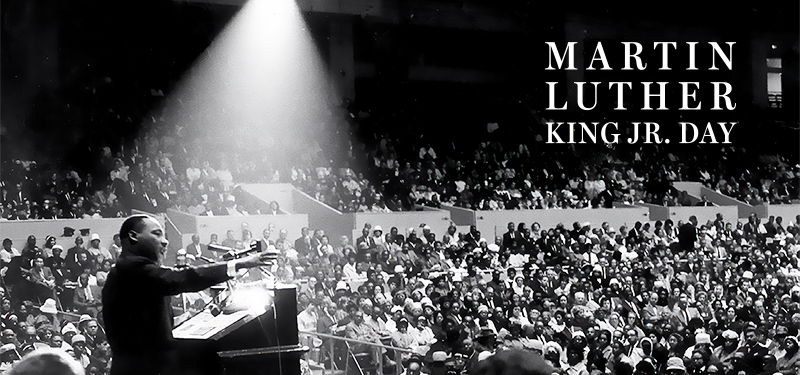 #Celebrating Martin Luther King, Jr. Day
Sometimes referred to as "MLK Day" or "MLK Day of Service," Martin Luther King, Jr. Day marks the birthday of one of America's greatest civil rights heroes. It is celebrated on the third Monday of January each year. Many people honor King's legacy on this day by taking part in an act of volunteer service. It is one of two national days of service. 
#Biographies and Tributes
Martin Luther King, Jr.: A Life was drawn from 25 years of award-winning commentary on American race relations. Penned by renowned biographer Marshall Frady, it combines the history of the civil right movement with King's powerful and inspiring rise to acclaim and influence. 
For an even more personal and loving portrait, check out Martin Luther King, Jr.: A King Family Tribute by Angela Farris Watkins. Explore King's legacy through previously unpublished photographs, family memories and images of the National Mall memorial.
#Teaching Kids About King
I Am Martin Luther King, Jr. by New York Times bestselling author Brad Meltzer is the eighth biography in the popular "Ordinary People Change the World" series. It tells the story of King's fight for African American civil rights. (Bonus: listen to our interview with Brad Meltzer on the Library's Completely Booked podcast.)
#Everyday Activism for Teens
To learn more about the holiday, how it's observed and how it came to be, teens should check out Ain't Gonna Let Nobody Turn Me 'Round by Kaithlyn J. Kirkwood. This memoir-in-verse tells the moving story about how an everyday activist, attending protests as a teenager, would go on to fight as an adult for Martin Luther King Jr.'s birthday to become a national holiday.
#The Civil Rights Movement
For more about King's impact and other everyday heroes of the movement, read The King Years: Historic Moments in the Civil Rights Movement by Taylor Branch, the Pulitzer Prize winning author of the King Years trilogy.
#Books for Children
#Books for Teens
#Books for Adults