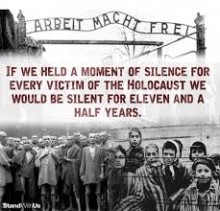 The Holocaust Collection is a selection of resources documenting one of the most horrific events in human history. The collection catalogues the history, events and aftermath of the Holocaust through books, recordings, films and other materials, including eyewitness accounts from 16 local Holocaust survivors. Testimonials are available on DVD.
Located in Special Collections on the 4th floor of Main Library, the Holocaust Collection is made possible in partnership with Remembering for the Future Community Holocaust Initiative.
Holocaust Collection in the catalog.