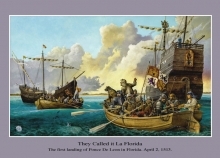 Curious about the 1901 fire that destroyed downtown?  Want to find out the name of the first motion picture studio opened in Jacksonville?  Ever wonder about the namesakes of our many bridges?
Florida's history comes to life at the Main Library, where you'll find thousands of books and pamphlets, photographs, postcards, periodicals, microfilm, and documents, some dating back to the 1600s.  The Florida Collection covers subjects ranging from our history prior to statehood, to native plants and wildlife, to biographies of notable Floridians and more.
Explore Jacksonville's transformation from swamps and sawgrass to the modern metropolis it is today.  You can even take a look at a brick from the demolished 1903 City Hall building and 19th century prints and postcards from as far back as 1898.  A 31' x 8' mural by renowned artist lee Adams depicting the arrival of the French Huguenot explorer Jean Ribault was added to the collection in May 2012 as a permanent display.