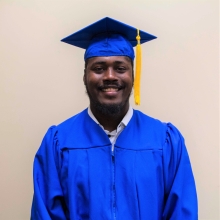 #A Father's Drive
Samson Pickens was determined to be a successful father and good role model for his two children. He knew he needed a great career to be able to provide them with the support and opportunities they'd need. But first, he'd have to earn his high school diploma.
#Samson's path forward
Samson was looking for more than just a job. He wanted to steer himself and his family down the steady path to success. He knew it was up to him to show his children the way.
"I figured if I get a high school diploma, they'll go down the same road."
His wife had earned her diploma and a bachelor's degree. Samson wanted his diploma to hang on the wall beside hers. "They're something my kids get to see every day."
#Never give up
Samson set his sights on Tulsa Welding School. "They told me that if I could get a diploma in the next two months, they'd enroll me right away." He was determined to start as quickly as possible.
"I worked really hard and really fast."
He still hit a few roadblocks along the way but Samson kept moving forward:
"If you really want it, you've got to keep pushing yourself… Keep striving."
Samson did enroll in the welding program. "I'm going back for pipe fitting and then… I'm going to pursue my career in welding and pipe fitting after that."
Thank you for sharing your story, Samson!
#Do you, a family member or friend need help preparing for the GED Test®
Sign up for FREE classes with trained instructors at your Jacksonville Public Library. Classes are offered in the daytime, evenings, and on Saturdays to fit your busy schedule. We've helped hundreds of other adult learners just like Samson achieve their goals.
#Reaching your destination
Not sure where to begin? Sign up for an intake appointment.
We'll get you registered for the right classes and get you on the road to success as quickly as possible. No guesswork required.
You can also call the Library's Center for Adult Learning staff at (904) 255-6135 for more information.