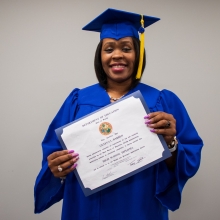 Can You Picture Yourself Holding Your High School Diploma?
Geneva Barber could. And with help from the Library's Center for Adult Learning, she passed her G.E.D. Test®. Now, she ready for the next chapter of her amazing story.
How It Started
Geneva got inspired to take that next step when a close friend earned her high school diploma with help from the Library's Center for Adult Learning.
"I wanted my diploma. I wanted to further my education and be the best parent I could be." It was important for her to show her children that "no matter what obstacles get in your way, you can always push through and persevere."
When she was younger, Geneva got into a lot of trouble. "I was a very troubled teen." Geneva eventually got kicked out of high school. "When I went to the alternative school, they weren't really a big help and it discouraged me from completing."
"The opportunity here at the Library, it kept me motivated," she said. The first person she contacted at the Center for Adult Learning ended up being one of her instructors and main cheerleaders, too. "They really stayed on me." That encouragement and advice she said, "gave me the extra push that I needed."
How It's Going
So what does Geneva have planned for the future? We'll let her tell you:
She went on to say, "My family and I are so excited! The opportunities now... they're endless."
Thank you for sharing your story, Geneva!
Do you, a family member or friend need help preparing for the G.E.D. Test®?
Sign up for FREE classes with trained instructors that will help you pass all four test subjects.
Classes are offered in the daytime, evenings, and on Saturdays to fit your busy schedule. Whether your end-goal is a better paying job, higher education, or just being a role model for your kids: Our staff will help you make a plan. We've helped hundreds of other adult learners just like Geneva.
We'll also get you registered for the right classes. No guesswork required.
Take the First Step
Schedule an intake appointment and get started right away!
Each step forward gets you that much closer to your dream.
You can also call the Library's Center for Adult Learning staff at (904) 255-6135 for more information.