#Storytime, Any Time
Have you ever thought to yourself, "I wish the library offered more storytime programs to fit our busy schedule"? Traveling Tales are a collection of convenient book bundles and activity kits for preschoolers, ages two to five, that you can take home! Parents, caregivers and educators: Get your preschoolers ready to read and ready for school with help from the Library! 
#How does it work?
A helpful "User's Guide" is included in each themed kit with songs, games, and art project ideas that make it easy for anyone to provide quality storytime experiences at home, at a daycare, or in your preschool facility.
#Each kit contains:
5-7 carefully selected children's books
Puppets or other interactive manipulative
A complete flannel board story, song or rhyme
Materials for each theme are contained in a sturdy bag and can be checked out with your library card.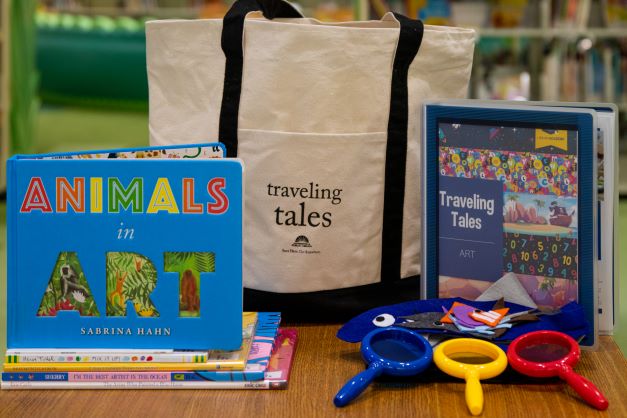 #Check out up to three themes at a time!
You can find dozens of Traveling Tales Kits in the Library's online catalog. Just place a hold, set your preferred pickup location and you're good to go! When you're done, you can return the Traveling Tales kit to any Jacksonville Public Library location.
---
#Join Library Academy
Looking for more ways to get your preschooler ready to read? Sign up for our monthly "Little Learners" Library Academy newsletters, designed for children ages birth to five. Each month, you'll get great book recommendations and themed activities delivered straight to your inbox that coincide with programs going on at the Library. They're like a mini Traveling Tales Kit! It's all designed to encourage reading motivation and build literacy skills.
---