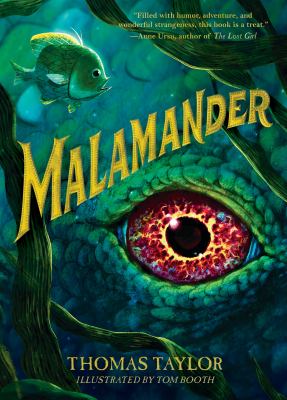 "In the winter, people only stay here if they have a good reason. Or a bad one. These are the kind of people who look at their reflections in the lobby mirrors just to see if they are being followed. Or ask to be seated where they can see but not be seen. These are people with secrets to keep or secrets to uncover."
Malamander by Thomas Taylor is an atmospheric mystery set in the seaside town of Eerie-on-Sea. This salty tale features a quirky cast of characters who quickly become entangled in the lore of a legendary sea monster and its wish-granting egg. As the resident Lost-and-Founder at the Grand Nautilus Hotel, Herbie Lemon is in charge of reuniting lost items with their owners. It's a lot of responsibility for a 12-year-old, but the job isn't without its perks. It affords Herbie a modest bed in the storage room—plus he gets to keep anything left in the hotel longer than 100 years. Life at the Grand Nautilus is smooth sailing. That is, until the night Violet Parma shows up looking for a place to hide from a frightening character known only as the Boat Hook Man. It's a cold winter in Eerie-on-Sea and you may just want to cozy up with a plate of Mr. Seegol's famous fish n' chips while these young heroes defend their local cryptid against an intricate conspiracy to steal its magic egg.
If you enjoy adventurous tales with supernatural elements, check out Gargantis, the next book in the Legends of Eerie-on-Sea series or one of these thrilling titles.