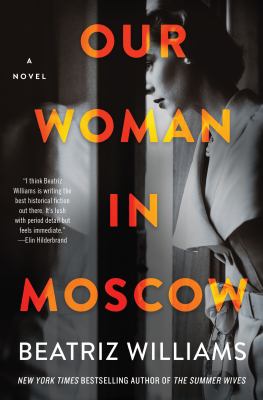 Rarely does a reader get the pleasure of experiencing a character such as Ruth Macallister. The driving force behind New York's Hudson Modeling Agency, Ruth is as confident, sarcastic, and stubborn as any man she might encounter in her Cold War era world. This is put to the test when government agent Sumner Fox comes in to inquire when Ruth last heard from her sister Iris. Very different from the pragmatic Ruth, Iris has become entangled with former U. S. diplomat Sasha Digby who has defected to the Soviet Union and taken Iris and their children with him. Students of Cold War politics will recognize similarities to the Cambridge 5, a spy ring of Soviet sympathizers which operated in the United Kingdom during the World War II and the ensuing Cold War.
Our Woman in Moscow is much more than a spy thriller. In her author's note Williams describes learning about the Cambridge 5 as the thing that got her interested in the idea of a spy ring novel, but she also wanted to explore how the stress of keeping those secrets from even their closest loved ones would affect the persons involved. Holding it all together, however, is Ruth and her first-person narration which acts as a private conversation with the reader. Lines like "So whatever people might say about me, and they say a lot..." or "Where was I? My mind's wandering a bit." go beyond the usual style of first-person narration to the breaking down of what dramatists call the fourth wall. Ruth's narration comes across almost as gossip, sly nudges to the reader along with essential plot details. If you do get a chance to pick up Our Woman in Moscow, I'm sure you will agree Beatriz Williams enjoyed writing her central character as much as we enjoy meeting her.
Lit Chat Interview with Beatriz Williams at Regency Branch Library!