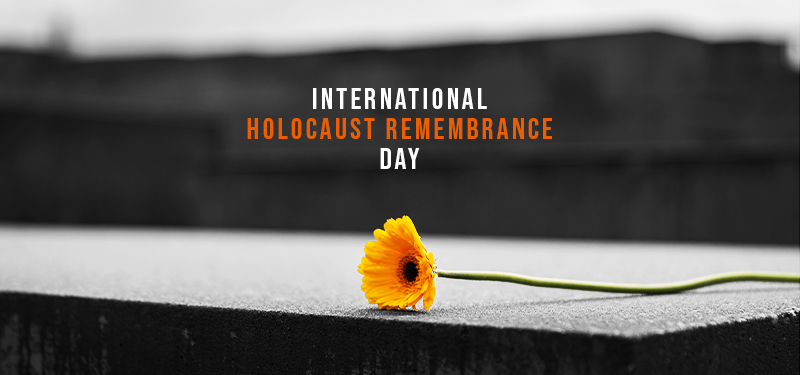 "To forget would be not only dangerous but offensive; to forget the dead would be akin to killing them a second time." — Elie Wiesel, Night
Six million Jewish people were killed by the Nazis and their collaborators during the Second World War, along with millions from other persecuted groups.  International Holocaust Remembrance Day is dedicated to keeping the memory of this horrific loss of human life alive and to shine a light on the dangers of failing to learn from history. It is observed on January 27, the anniversary of the liberation of Auschwitz-Birkenau.
#Learning from Local Survivors
The Holocaust Collection at the Main Library includes books, recordings, films and other materials, including eyewitness accounts from 16 local Holocaust survivors. Located in the Grand Reading Room, the collection is made possible in partnership with Remembering for the Future Community Holocaust Initiative.
#So That We Might Never Forget
For a stark black-and-white reminder of the horrors of the Holocaust, The Auschwitz Photographer by Luca Crippa, documents thousands of lost souls and forgotten stories in a gripping work of narrative nonfiction that takes readers behind the barbed wire fences of the world's most feared concentration camp.
#Holding on to Hope
On Yom Kippur, 1944, fighting to stay alive as a prisoner in Auschwitz, Lily Ebert made a promise to herself. She would survive the hell she was in and tell the world her story, for everyone who couldn't. Her new book, Lily's Promise, and her viral TikTok videos, fulfill that vow with candor, charm and an overflowing heart.
##WeRemember
A National Jewish Book Award-winner, We Remember With Reverence and Love by Hasia R. Diner documents the ways in which the Holocaust was memorialized through history books and public ceremonies by American Jews in the years after World War II.
#More Survivor Stories