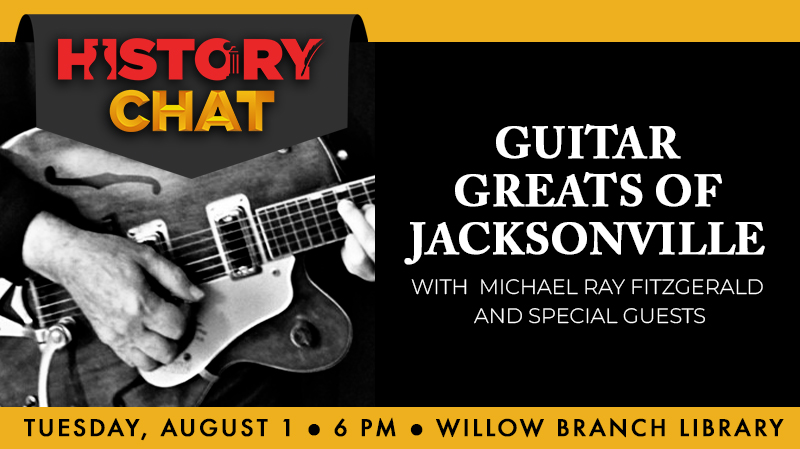 In the 1960s, the electric guitar became one of the most important instruments in popular music. Guitar gods came forth from LA, London, Chicago and Nashville. But there was another, bold southern city that arose as an unlikely incubator of talent.
Learn more about the Guitar Greats of Jacksonville at Willow Branch Library with author Michael Ray FitzGerald.
#JOIN
Join us Tuesday, August 1 at 6 p.m. at the Willow Branch Library for History Chat: Guitar Greats of Jacksonville with Michael Ray FitzGerald, Ph.D. He'll be discussing his latest book, Guitar Greats of Jacksonville. The author and his guests will present for 40 minutes, followed by audience Q&A. Bring your copy of the book to be signed by the author, or buy one at the event! 
---
Michael Ray FitzGerald is a musician, media scholar and former university instructor from Jacksonville. He is also the author of four books including the award-winning Jacksonville and the Roots of Southern Rock and Swamp Music, both of which examine the music and culture of North Florida. He has a master's degree in media history from University of Florida and a doctoral degree in film and television from University of Reading (UK). He started writing music criticism in the mid-1980s for Jacksonville's Southeast Entertainer and went on to write for more than thirty local, national and international publications, including the UK-based Historical Journal of Film, Radio and Television. The president of 'Mighty Mackerel Media' (www.mightymackerel.com), he is currently working in television development.
#READ
Check out Michael Ray FitzGerald's books from the Library!
---