Saturday, December 17, 2022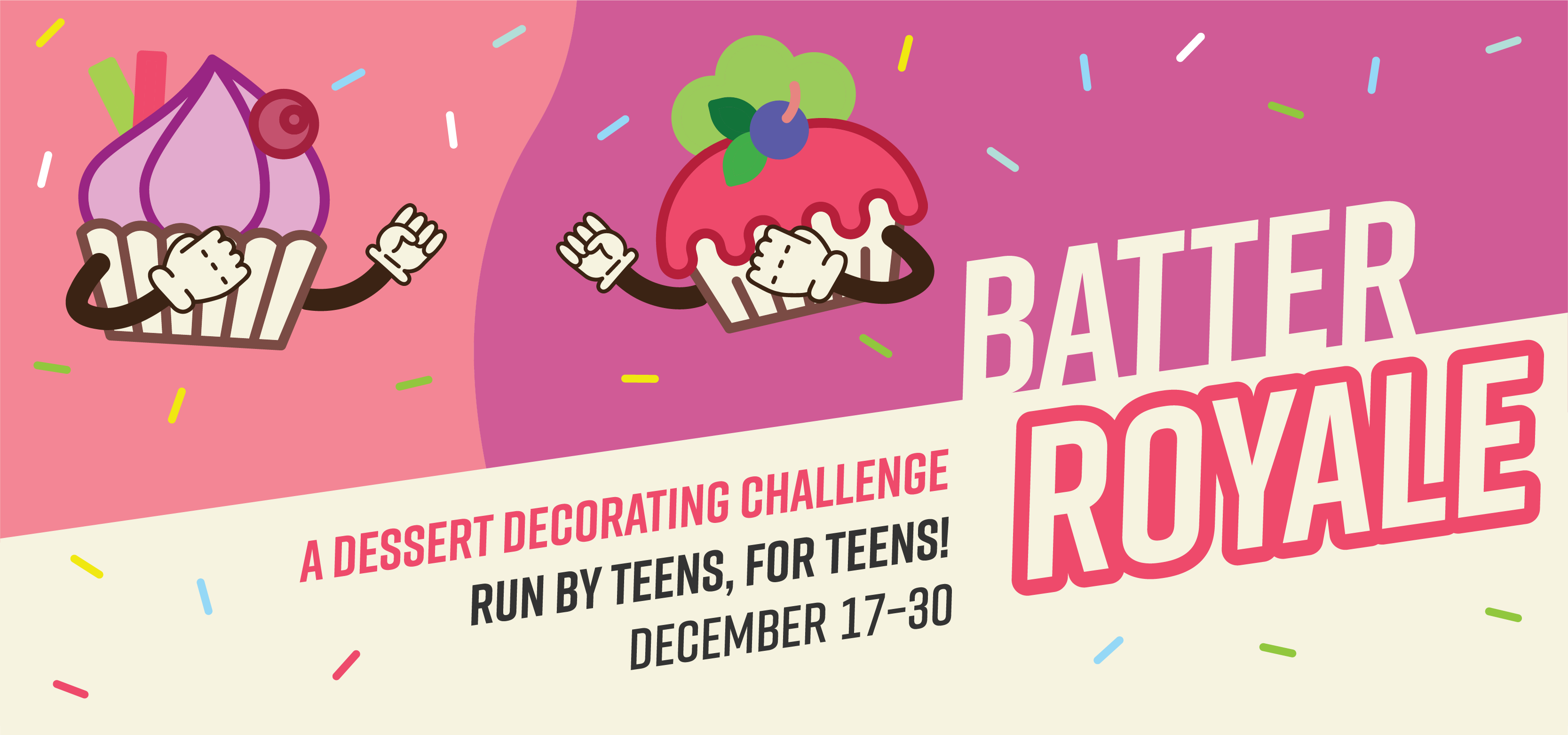 #Let's Get Ready to CRUMBLE!
Cakes, cookies and creativity will clash this December in Batter Royale — the Library's first-ever Dessert Decorating Challenge run by teens, for teens!
Want to be the next cake boss? Looking for something fun to do with friends over the winter holiday? Want a greater voice in what kinds of programs are offered at the library? It's time to BAKE IT HAPPEN.
If you're 12-18 years old, join us at Teen Advisory Board. You could even earn volunteer hours! 
#A Four-Tiered Challenge:
November 19 - December 2: Help plan and lead the competition! The group will decide which kind of dessert to decorate.
December 3 - 16: Learn and practice dessert decorating techniques with your friends (and competitors)!
December 17 - 30: Create your unique, edible art and battle other teens at your library for the top spot!
December 30 - January 10: Think your dessert is Instagram-worthy? Let's put it to a vote!
A picture of the winners' creation from each participating library location will be posted on the Library's Instagram so that an overall winner can be chosen.  
Note: All supplies will be provided for FREE at our in-person TAB meetings. Virtual TAB members can also participate at home, with their own supplies. A supply list can be found on the event page.
#Looking for Inspiration?
This competition is no cakewalk! Well, unless you're the one walking around with the winning cake. Check out these fun book recommendations:
Discover easy, accessible, and fun techniques for making beautifully decorated cupcakes with Cupcake Decorating! This mini-book, filled with the top projects from the best-selling Cupcake Decorating Lab, is an inspirational guide, with instructions for basic techniques, such as frosting cupcakes with an offset spatula; using a piping bag and tips; flooding cupcake tops with icing; frosting with chocolate ganache; and tinting buttercream.
When seventeen-year-old small-town waitress Rose impresses a famous food critic, she and her best friend, Fred, find themselves thrust into the tough world of competitive baking. The contest is an intense ten days of bizarre challenges, and the competition is cutthroat. Some competitors are willing to lie, cheat, and sabotage their way to the top. Rose may be in over her head, but she is determined to show that she can become a top chef.