Friday, February 10, 2023
#The "Must-See" Gold Key Exhibition
Young people are always looking for ways to express themselves. The visual arts can give them the skills and the tools they need to do just that. With the right teachers, family and friends to support and inspire them, they can create amazing works of art that make us stop, look and really listen. That's why every year, the Main Library plays host to some of the most amazing and talented student artists that Northeast Florida has to offer. Celebrate their artistry and achievement with us this February and March. 
#Showcasing Talented Local Youth
The 2023 Northeast Florida Scholastic Art Awards Gold Key Exhibition opens Saturday, February 11 and runs through March 7. You'll be absolutely floored by the hundreds of "Gold Key" (or first-place) paintings, photographs, sculptures, and other mixed-media masterpieces on display. You might even need to make more than one trip. At the very least, you'll need to visit the galleries on the Library's first, second and third floors just to see everything!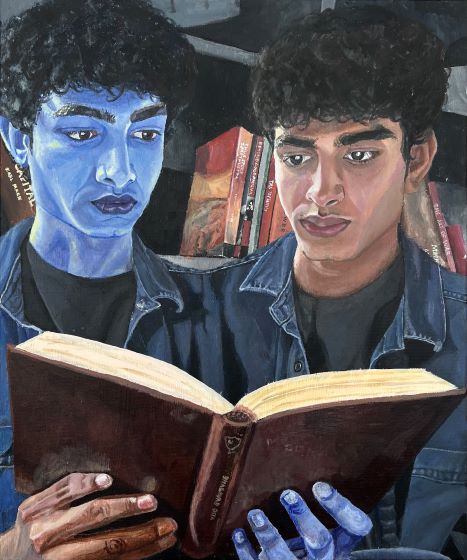 ---
#We're Open For Artists
Main Library is open late every first Wednesday of the month for Art Walk. Join us on Wednesday, March 1 until 9 p.m.! If you're looking for the perfect time to view the exhibits, Art Walk is it!
Not only is the Main Library directly across from one of the event's three major hubs, James Weldon Johnson Park, but you will also find artists, zine makers, authors and more inside this beautiful building. There are often open mic nights in the Teen Room, live musicians, and DIY art for kids.
We also have many pieces of permanent, public art like the Kathryn Freeman murals in the stairwell between the second and third floor.
#What Is NEFSAA?
Established in 1923 by Scholastic Inc. founder Maurice R. Robinson, the Scholastic Awards have grown to become the nation's highest honor and largest source of scholarships for creative teens. All students in grades 7 through 12, whether in public, private, or home schools, can apply.
Northeast Florida Scholastic Art Awards (NEFSAA) has been the regional visual art affiliate for the Scholastic Art & Writing Awards for the last 14 years -- offering recognition, celebration of, and college scholarship opportunities for visual art students throughout our area.
#The Arts Add Up
The 2023 NEFSAA season collected and adjudicated just under 3,000 student submissions from 1303 students from Baker, Clay, Duval, Flagler, Nassau, St. Johns, Union, and Volusia counties. This year 1,621 awards were distributed to 739 student winners. All students in grades 7 through 12, whether in public, private or home schools, can apply. 
In the last five years, regional award winners have earned $30 million in college scholarship offers from Savannah College of Art & Design, Jacksonville University, and the University of North Florida. Not only that, "Gold Key" winners at the regional level automatically go on to the national competition. Of the students awarded Gold Keys last season, 24 went on to earn awards at the national level including a record six Silver Medal Portfolios, awards that come with cash prizes!