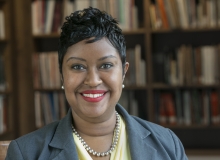 Tia Mackey Leathers is the Executive Director of the Family and Community Engagement Department for Duval County Public Schools (DCPS).  Leathers provides oversight to District Athletics, JROTC, Community Education, Driver Education, Extended Day, Volunteer Services, the 5000 Role Models of Excellence Project, the district's Parent Academy, Faith-Based/Business Partnerships, and organizes the United Way Campaign for the district's more than 13,000 employees.
Leathers joined DCPS in 2013 to directly lead the Parent Academy, a resource introduced by then Superintendent, Dr. Nikolai P. Vitti. As the Director of Parental & Community Involvement, Leathers surpassed original goals for the initiative, which has reached over 22,500 parents to date.  While in this role, she hosted the inaugural Parent Academy Conference in Jacksonville, where seven additional counties convened to discuss Parent Academy implementation across the state of Florida.
Leathers has spent the last 16 years in management, which includes five years with the MaliVai Washington Youth Foundation as an Assistant Manager, Program Manager, and Program Director.  She also worked seven years for Junior Achievement of North Florida, beginning as the Manager of Northside/Downtown schools and ending as Vice President of Programs for the 20-county organization. 
A Jacksonville native and graduate of William M. Raines High School, Leathers has a passion for education and the community.  She has previously served as the Secretary for the North Council of the Jacksonville Chamber of Commerce, is currently a member of the West, South, Mandarin, and Professional Women's Councils of the Chamber, and has served on the Advisory Boards for Jean Ribault, First Coast, Terry Parker and Ed White High Schools. She is an ex-officio member of the Jacksonville Public Library's Board of Trustees, serves on the boards for the Police Athletic League and Hope at Hand not-for-profit organizations, is a proud Big Brothers Big Sisters mentor, a Junior Achievement volunteer, a member of United Way's Atlantic Circle, Alpha Kappa Alpha Sorority, Incorporated, the Bold City Chapter of the Links, Incorporated, and a graduate of Leadership Jacksonville - Class of 2017.
Tia received a full academic scholarship to attend the University of North Florida, where she received her Bachelor of Science degree in Communications. She has since earned her Master of Business Administration degree, completed a Developing Managerial Effectiveness program at The Pennsylvania State University, and a Strategic Frameworks for Nonprofit Organizations program at Harvard University.
She is a lifelong member of St. Stephen A.M.E. Church, where she serves as a steward.  Leathers is happily married to her husband of 10 years and they enjoy spending time together with their 5-year-old daughter.