This time in WriterLab, we'll look at how perfectionism can be a roadblock for our creativity, and learn techniques on how to push past it to enable the creative process to flow.
#LISTEN:
In this 5 minute podcast, Andy Puddicombe, co-founder of the meditation app, Headspace, and host of the Radio Headspace podcasts, encourages us to take a look at the stories we're telling about ourselves, those stories that we use to limit ourselves, and remember that we have the power to change the ending.
After listening, ask yourself:
What is the life I THINK I'm living?
What is the ACTUAL life I'm living?
What am I doing to limit myself?
How can I keep that from happening? What strategies can I use?
How can I apply these strategies to my writing, so I don't create roadblocks that keep me from doing it?
#EXPLORE: Try this brief exercise to stop the voice in your head from telling you your work is not good enough.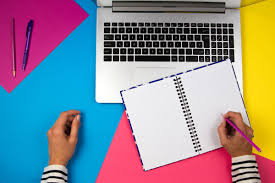 In The Write Practice blog, guest blogger Kimberly Dawn Rempel shares advice that helped her get around perfectionism keeping her from writing. She has three lessons to share:
Give yourself permission to write total crap quiets perfectionism.

In the simplest terms, Just. Do. It. Put your thoughts down, write what's in your head, and don't worry about anything else.

Permission to write crap unlocks creativity.

Because you're not worried about writing The Perfect Story, your mind will be able to more freely explore things: plot twists, character development, etc.

To grow in the craft of writing, one must write.

Basically, practice, practice, practice. Nobody publishes their first draft. Ever. By making a commitment to just write, you'll learn what works and what doesn't. If you're too concerned about it being perfect, you will not be able to explore all the aspects of writing, and will be stuck in a tunnel, unable to get out.
Exercise: Set a timer for 15 minutes. Write a very short, 500-word story that you make up on the spot. Before beginning, decide to allow yourself to write crap. When you finish, answer these questions about the PROCESS, not your story:
What was easy? Why?
What was hard? Why? How can you work on this?
Did you try something different? Did it help?
Would you keep this approach or try something different the next time you do this exercise?
Keep doing this exercise periodically, just to make a point to practice and try different things, knowing that another person won't be reading your work and it's just for you to learn.
#JOIN: It always helps to share with other writers, because you learn from one another.
WriterLab for Teens
Are you a perfectionist? In this program, we will discuss perfectionism and how it impacts our writing. Our featured book is Final Draft by Riley Redgate. Today's activities will inspire us to question our "mistakes" and build confidence in our writing style.
Supplies include:
Tuesday, October 20, 2020 – 11 am
Wednesday, October 21, 2020 – 4:30 pm
#KEEP READING: Check out these books for "perfect" fun fiction reads as well as non-fiction selections to help manage perfectionism.