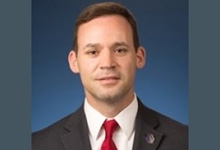 Elected in 2019, Rory proudly represents Jacksonville City Council District 13, including the Beaches communities of Atlantic Beach, Intercoastal West, Jacksonville Beach, Mayport and Neptune Beach. In addition to his work on behalf of the Beaches community, Rory is the Chief Executive Officer of K9s For Warriors. Under his leadership, K9s For Warriors grew into the nation's largest provider of Service Dogs for disabled American veterans and the largest Service Dog agency in the world using primarily rescue dogs. Prior to leading K9s For Warriors, Rory was a litigator at two international law firms. He also served as a federal prosecutor for the U.S. Department of Justice specializing in public corruption and financial fraud prosecutions. Before earning his law degree, Rory served as Briefing Director for California Governor Arnold Schwarzenegger and as a Deputy Associate Director at the White House for President George W. Bush. He was working in the White House on 9/11 and, ultimately, served as part of the startup staff for the U.S. Office of Homeland Security.
Rory is a national advocate for American veterans focusing primarily on combat-related PTSD, Traumatic Brain Injuries, veteran suicide, and veteran homelessness. In 2015, he partnered with then-Florida Rep. Ron DeSantis (R-FL-6) to author and introduce the Puppies Assisting Wounded Service Members (PAWS) Act, passage would require the U.S. Department of Veterans Affairs to provide a Service Dog to qualifying military veterans with severe PTSD.
In 2016, Rory helped found the Association of Service Dog Providers for Military Veterans endeavoring to raise Service Dog standards, outlaw "fake" service dogs, and ensure that every disabled veteran who needs one has access to a high-quality Service Dog. In 2017, Rory conceived of and helped found "Service Dog Pass," the nation's first nationally recognized credential for legitimate Service Dogs. In 2016, Rory was elected to the Neptune Beach City Council. He earned his JD from the University of San Diego School of Law, graduating cum laude, and completed his B.A. in Political Science from the University of Michigan, Ann Arbor.
Accomplishments:
Leadership Jacksonville (2014 (the best class))
Leadership Florida (2015)
Presidential Leadership Scholars (2017)
Jacksonville Business Journal "40 Under 40" (2017)
Pet Age "40 Under 40" (2017)
Jacksonville Business Journal "Ultimate CEO" (2018)
National Association of Veterans and Families, "Champion for Veterans" Award (2018)
Maverick Pack "Future40" (2019).