#Yours and Our Health and Safety
What health safety precautions are in place to keep customers safe inside libraries?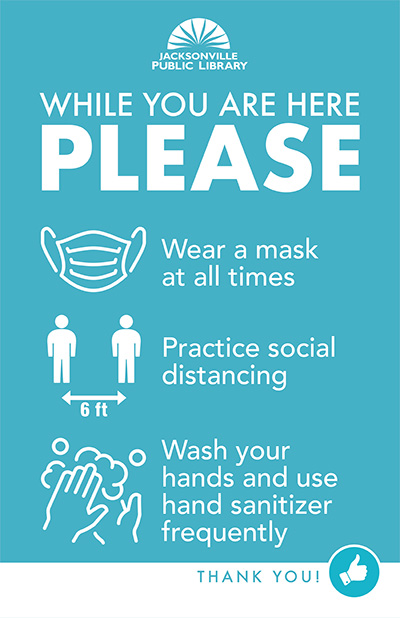 In addition to temperature checks, covid screenings and mask requirement, public computers and furniture has been arranged to allow for social distancing. A telephone support system has been implemented for customers who need assistance on public computers to allow staff to maintain appropriate distance while providing support. Signage has also been placed to guide customer traffic and queues in ways that are aligned with CDC guidelines.
Health and safety considerations for inside service at all libraries include, but are not limited to.
All customers and staff must submit to a touchless temperature check, complete a COVID-19 screening form, and wear a mask (everyone 7 years and older) over mouth and nose at all times in the library.
The first and second floors will be open. Runners will retrieve materials from the third and fourth floors as needed.
Some public computers---appropriately distanced---are available on the first floor, and socially-distanced seating is in place.
How can we be sure that staff members are not infected with COVID-19?
Before entering the building, staff members will complete a COVID-19 screening questionnaire and have their temperature taken. If staff report to work ill or are found to be potentially compromised, they will be sent home. While at work, staff will wear masks, wash and sanitize hands frequently, and practice social distancing. Curbside pickup of holds is a contactless process. Your safety and the safety of our staff is our priority.
Should I do anything to sanitize books, dvds and cds when I receive them or before returning them?
No. Items have been carefully handled by staff to avoid any potential contamination. After materials are returned they are being quarantined for 72 hours to allow any potential traces of COVID 19 or other infections agents to expire. (Please note that damage caused to books, dvds or cds by applying cleaning fluids to them may result in damage fees.)
#Open Libraries
Main, Highlands, Pablo Creek, Southeast, Webb Wesconnett, Dallas Graham, Brentwood, Beaches, Bradham and Brooks, Mandarin, University Park, West, South Mandarin, Bill Brinton Murray Hill, Regency Square, San Marco, Willowbranch
Some libraries are providing curbside pickup. See Curbside Pickup for details.
At this time branch phone lines are not being answered. Please call (904) 255-2665 if you need assistance.
#Meeting Rooms
Meeting rooms are closed and unavailable for use at all Library locations until further notice.
#Curbside Pickup
PLEASE NOTE: Curbside pickup is for picking up holds by notification only. To support the efficiency of this process, we ask you please to check your email or phone for notifications of holds being ready and continue to place holds as you normally would when all locations are open, and not visit curbside locations without notification (except to return materials).
How do I make an appointment to pick up my holds?
You will receive a link and instructions on making appointments in the email notification your receive, or when you receive a phone notification.
Do I need to have an appointment to pick up my holds even if I got a notification that they are ready?
No, you don't need an appointment. However—like when visiting a busy restaurant—making a reservation for library curbside pickup will result in a better and faster experience. If you do not have an appointment, follow the "No Appointment" signs in the parking lot and follow the instructions on the sign to retrieve your holds.
Can I pick up my holds at any of the curbside service locations?
Not unless otherwise invited to do so by the library. You may receive a call from a Jacksonville Public Library staff member or an email inviting you to have your hold relocated to an open curbside location. Otherwise, please plan to pick up your held item at the library listed in your notification.
Can I pick up a hold if I haven't received a notification?
No. You will not be able to pick up your hold until the library staff prepare it and send the notice (text or email).  To ensure that we can provide you and your fellow library cardholders with the best possible experience, please do not attempt to pick up holds before you have been notified that they are ready.
I don't want my held item anymore. Can I cancel it?
Yes. Please call (904) 255-2665 and we'll cancel it for you.
#Returning Books, DVDs, and CDs
You can return materials to any one of the library's 21 locations. They do not have to be returned to the same location you borrowed them from.
I returned a book but it still says it's checked out. Is it lost? What happened?
According to the Center for Disease Control, after 24 hours infectious agents including COVID-19 would not remain on materials (Library Journal: IMLS, CDC: On Staff Safety, Handling Paper In COVID-19 Pandemic). We're quarantining books, DVDs and CDs for 72 hours after they're returned (exceeding CDC recommendations) for safe handling of materials. Therefore, books you've returned may not be checked back in yet. 
If it has been three business days or less since you returned your materials, it is most likely that they are still in quarantine. If it becomes significantly longer, please call (904) 255-BOOK (2665) to inquire about your returned items.
There are no overdue fines applied for materials returned before or on April 30, 2021.
#Donating Books to the Library
Special Collections at the Main library will consider accepting book donations.  Please call 904-255-6195 for more information.  Other library locations are not accepting donations at this time.  Stay tuned for updates.  Thank you.
#Other Library Services
Interlibrary Loan is running now. You can request and pick up books borrowed through Interlibrary Loan (please return those items inside an open library).
You can contact the Talking Books Library at 904-255-2665 when prompted select option 2 and staff can direct you to staff in the TBKS Library.
Hours M-F 10-6pm