#Yours and Our Health and Safety
What health safety precautions are in place to keep customers safe inside libraries?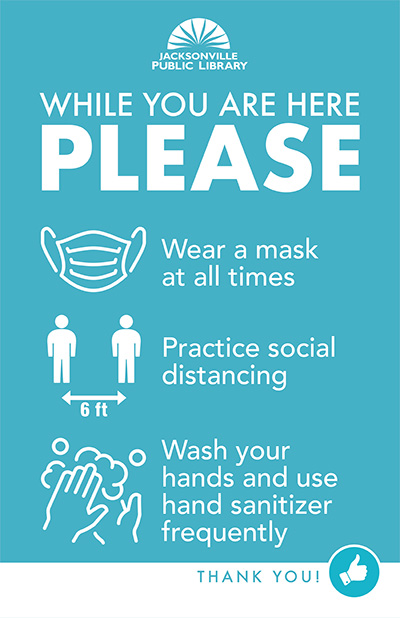 In addition to a mask recommendation, public computers and furniture have been arranged to allow for social distancing. A telephone support system has been implemented for customers who need assistance on public computers to allow staff to maintain appropriate distance while providing support. 
Health and safety considerations for inside service at all libraries include, but are not limited to.
It is recommended that all customers and staff wear a mask over mouth and nose at all times in the library.
Some public computers---appropriately distanced---are available on the first floor, and socially-distanced seating is in place.
How can we be sure that staff members are not infected with COVID-19?
If staff report to work ill or are found to be potentially compromised, they will be sent home. While at work, staff are asked to wear masks, wash and sanitize hands frequently, and practice social distancing. Curbside pickup of holds is a contactless process. Your safety and the safety of our staff is our priority.
Should I do anything to sanitize books, dvds and cds when I receive them or before returning them?
No. Items have been carefully handled by staff to avoid any potential contamination. (Please note that damage caused to books, dvds or cds by applying cleaning fluids to them may result in damage fees.)
#Open Libraries
Main, Highlands, Pablo Creek, Southeast, Webb Wesconnett, Argyle, Dallas Graham, Brentwood, Beaches, Bradham and Brooks, Mandarin, University Park, West, South Mandarin, Bill Brinton Murray Hill, Regency Square, San Marco, Willow Branch, Brown Eastside, Westbrook
At this time branch phone lines are not being answered. Please call (904) 255-2665 if you need assistance.
#Meeting Rooms
Meeting rooms are closed and unavailable for use at all Library locations until further notice.
#Curbside Pickup
Get your Library materials in a socially distant fashion, with grab-and-go curbside pickup service. 
#1. Place your hold
Visit the home page of this website (www.jaxpubliclibrary.org), search for something in the catalog and place it on hold. Pick a convenient library location and we'll ship it there for you.
Need help or not sure exactly what you're looking for? No problem! Call us at (904) 255-BOOK (2665), press Option 2 and our friendly staff will help.
Pro tip: Hold doesn't always mean "go on a waiting list." You can use the hold feature to have a book sent right from one branch/location to the one you want!
##2. Get notified
You'll receive an email (or phone call) letting you know that your item(s) are ready for you to pick up. 
Pro tip: Do you have questions? No problem! Call us at (904) 255-BOOK (2665), press Option 2 and our friendly staff will help.
##3. Come and get it
When you arrive, park in the designated curbside parking spot. Call the number on the sign and we'll get your materials together while you wait in your car.
##4. You're off!
The staff will bring your items out to you for a contactless pickup experience. They'll place them in your trunk, back seat, passenger seat, rumble seat... whatever works for you! Check your email for a receipt with your due dates.
#Returning Books, DVDs, and CDs
You can return materials to any one of the library's 21 locations. They do not have to be returned to the same location you borrowed them from.
There are no overdue fines applied for materials returned before or on April 30, 2021.