Wednesday, November 24, 2021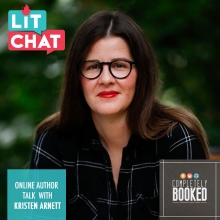 Kristen Arnett's novels and short stories explore queer life and life in Florida, combining the two with her signature dark humor. Join us to chat with the New York Times bestselling author about the stories that motivate her to write, what she's learned from writing, and more!
Kristen Arnett is the author of With Teeth: A Novel and the New York Times bestselling debut novel Mostly Dead Things, which was a finalist for the Lambda Literary Award in fiction. She is a queer fiction and essay writer. Her work has appeared at The New YorkTimes, The Cut, Oprah Magazine, Guernica, Buzzfeed, McSweeneys, PBS Newshour, The Guardian, Salon, and elsewhere. Her next book (an untitled collection of short stories) will be published by Riverhead Books. She has a Masters in Library and Information Science from Florida State University and currently lives in Miami, Florida.
Sign Up for Library U to hear about the latest Lit Chats and catch them live! — https://jaxpubliclibrary.org/library-u-enrollment 
Kristen Arnett
Read: Kristen's Books in the Library Catalog
Website: https://www.kristenarnettwriter.com/ 
Twitter: @Kristen_Arnett
Jacksonville Public Library
Website: https://jaxpubliclibrary.org/ 
Twitter: https://twitter.com/jaxlibrary 
Facebook: https://www.facebook.com/JaxLibrary 
Instagram: https://www.instagram.com/jaxlibrary/ 
YouTube: https://www.youtube.com/user/jaxpubliclibraryfl 
Contact Us: jplpromotions (at) coj.net