Thursday, September 16, 2021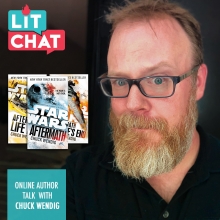 Have you ever read a sci-fi or fantasy book and wondered, what kind of a mind thinks up these new worlds? Find out and get a peek inside of one at our Lit Chat with Chuck Wendig!
Chuck Wendig is the New York Times and USA Today bestselling author of Star Wars: Aftermath, as well as the Miriam Black thrillers, the Atlanta Burns books, Zer0es/Invasive, Wanderers, and the upcoming The Book of Accidents (July 2021). He's also worked in a variety of other formats, including comics, games, film, and television. A finalist for the John W. Campbell Award for Best New Writer and the cowriter of the Emmy-nominated digital narrative Collapsus, he is also known for his books about writing. He lives in Pennsyltucky with his family.
Sign Up for Library U to hear about the latest Lit Chats and catch them live! — https://jaxpubliclibrary.org/library-u-enrollment 
Chuck Wendig
Website: http://terribleminds.com/
Twitter: https://www.twitter.com/ChuckWendig
Jacksonville Public Library
Website: https://jaxpubliclibrary.org/ 
Twitter: https://twitter.com/jaxlibrary 
Facebook: https://www.facebook.com/JaxLibrary 
Instagram: https://www.instagram.com/jaxlibrary/ 
YouTube: https://www.youtube.com/user/jaxpubliclibraryfl 
Contact Us: jplpromotions (at) coj.net