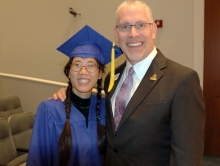 Lianying Ye earned a medical degree in China. Tragically all of her school records and proof of credentials were lost in a fire. Knowing that Lianying wanted to resume her education, a friend suggested the library as a place where she might take computer classes and GED classes. Lianying signed up for GED classes and eight months later received her GED diploma, an accomplishment she said was in part made possible by instructors who encouraged her every week to complete the work.
Lianying was selected as the student speaker for the library's 2019 GED celebration. Following is an excerpt from her speech that she delivered to fellow graduates and guests May 7, 2019, in the Hicks Auditorium at the Main Library.
"Good afternoon everyone. Today I stand here, and I want to thank my teachers Judy and Michelle for leading me through the GED learning process. Without their help I cannot stand here. Our classmates come from different countries, different industries, and different ages; it is the Jacksonville Public Library that brings us together. We have established friendships and become friends through our studies.
When I review my learning experience, I think of how shy I was and how my teacher Judy encouraged me to read aloud. She taught me knowledge and influenced my career choice. I was afraid to talk to people and now I choose to be an insurance representative. My teacher Michelle helped me analyze my reading problems and how to figure out and solve them. I also want to thank my husband, he taught me to work hard and never give up.
Today we have our GED diplomas because the Jacksonville Public Library, our teachers, family and friends were standing by our sides. Congratulations to everyone, including myself. Graduation is not the end, but the beginning."