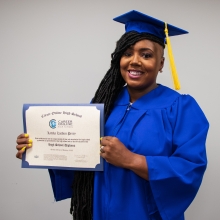 Do you need a push?
Lateka Perry had a lot of things going right for her and several people rooting for her. But she didn't always believe in herself.
Finding her motivation
Fortunately, Lateka found herself surrounded by a lot of prominent, successful people… people who saw her potential and pushed her. She was an entrepreneur, a mentor, a mother. There was just one problem: she just couldn't shake the feeling that she wasn't as smart or as deserving of success as the people she looked up to. She didn't have her high school diploma.
When she got pregnant at 17, Lateka dropped out. "I didn't think I needed school for what I wanted to do." To support herself, she started working as hair dresser. "At the time, I had to choose between books or Pampers." She just didn't see the value of an education.
Through hard work and sacrifice, she was able to turn that job into a successful small business. Still, she felt that "push" to finish high school. She wanted to grow her business and better her and her family's situation. She had also started to have an impact on the lives of several young women, often pushing them to finish their education.
She felt like she wasn't always walking the talk, though. When her children starting bringing schoolwork home that she couldn't help with, "that gave me the extra push I needed," she said. She would show them: if she could do it, they could do it, too.
Signing up
Lateka found the Library's Center for Adult Learning in a Google search.
She had tried a few other adult education programs but found them hard to stick with. She had all the motivation she could ever need. But as a working mother, she also needed a program with flexible scheduling where she could work at her own pace.
It took her four years but with the support of her husband and children, she was finally able to finish what she started and prove to herself that she deserved that high school diploma.
The future
Lateka still owns that hair salon. Though now that she has her high school diploma, she wants to continue her education in business.
When we told her we'd like to tell her story and if there was anything else she'd like to say to people thinking about signing up, she said, "Just keep pushing. Find your motivation."
Thank you, Lateka! You are an inspiration.
Do you, a family member or friend need help preparing for the G.E.D. Test®?
Sign up for FREE classes with trained instructors that will help you pass all four test subjects.
Classes are offered in the daytime, evenings, and on Saturdays to fit your busy schedule. Whether your end-goal is a better paying job, higher education, or just being a role model for your kids: Our staff will help you make a plan. We've helped hundreds of other adult learners just like Lateka.
We'll also get you registered for the right classes. No guesswork required.
Keep moving forward
Schedule an intake appointment and get started right away!
Each step forward gets you that much closer to your dream.
You can also call the Library's Center for Adult Learning staff at (904) 255-6135 for more information.