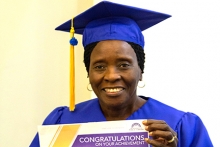 Visit the library's Center for Adult Learning and see the image of Khadi Ndiaye gracing two large posters—a READ poster for learning English in the ESOL program and another for earning her GED.
Khadidiatou "Khadi" Ndiaye, who hails from Senegal, West Africa, first came to Jacksonville Public Library's Center for Adult Learning (CAL) in 2006 to learn English. As an ESOL (English for Speakers of Other Languages) student, she attended English classes on and off for years at CAL, sometimes interrupted for extended periods of time when she made trips back home to Senegal.
Khadi maintained a job in patient care at Jacksonville's Memorial Hospital during the years she attended CAL classes. She learned English, and with encouragement from her employer, she became motivated to get her GED. Memorial Hospital, where Khadi has faithfully worked for 10 years, offered her financial assistance to attend nursing programs after she earned her GED.
Khadi's perseverance paid off. After learning English and earning her GED—combined efforts that took nearly 12 years—she plans to become an LPN and continue her career as an RN—most likely at Memorial Hospital. CAL and the Jacksonville community proudly celebrated Khadi's achievement as she walked in cap and gown in the GED Celebration held at the Main Library May 1, 2018. Khadi's accomplishment offers a message of hope for other adults who missed out on a high school diploma or put their education on hold: It's never too late to learn, to pursue your dream, and to succeed.