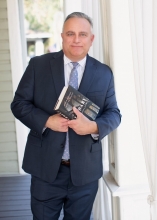 JACKSONVILLE PUBLIC LIBRARY FOUNDATION HIRES EXECUTIVE DIRECTOR
Foundation Executive Director Scott Evans Brings 29 Years of Non-Profit and Higher Ed Leadership
JACKSONVILLE, Fla., December 16, 2021 –The Jacksonville Public Library Foundation is pleased to announce Scott Evans (photo below) as its new Executive Director and Chief Development Officer.
Evans is a seasoned higher education and non-profit executive with 29 years of experience, most recently serving as Vice President for Institutional Advancement, Development, Marketing and Communications at Edward Waters University. He has served in vice president and director roles at Youngstown State University, NEOMED which is the medical and pharmacy school for several public institutions in northeast Ohio, Lake Erie College, and United Way of Greater Stark County. He was a presidential speechwriter and has served 10 university presidents throughout his career.
"Scott Evans' leadership in achieving record levels of philanthropy—generating more than $110M during his career—signals an excellent future for Jacksonville Public Library through the Foundation," said Jacksonville Public Library Foundation Board Chair Kathy McIlvaine.
Evans looks forward to leading the Foundation in pursuit of helping families and individuals in Duval County meet their philanthropy goals in support of the Library. "Jacksonville Public Library is a jewel and a tremendous resource in our community," said Evans. "I am excited to work with the people who love the Library and want to make it even better for everyone in the future through philanthropy."
Evans earned a master's degree in accounting from Kent State University, a bachelor's degree in management from Malone University and was a leadership scholar at Arizona State University where he studied aerospace engineering. He is also a graduate of the National Planned Giving Institute at the College of William and Mary. Evans has been a consultant and past member of several boards of charitable organizations and is always glad to help when and where he can. He is a commercial drone pilot and enjoys hiking and fishing.
Scott and his wife, Meg, live in Jacksonville, Florida. Their daughter, Katie, is a nurse; and their son, Zach, is a business analyst.
About the Jacksonville Public Library Foundation
The mission of the Jacksonville Public Library Foundation is to strengthen the ability of Jacksonville Public Library to serve as an educational and cultural resource for our community, and promote the use of library resources, enthusiasm for reading, and increased literacy for all Jacksonville residents.

The Foundation—a 501(c)(3) nonprofit organization—provides the residents, corporations, and other stakeholders with opportunities to invest in the success of the Library. With private financial support, the Foundation expects to support and enhance the Library's current funding system, not to replace the tax base and public community dollars so essential to the core of the Library mission. Managed by the Board of Directors, the Foundation is wholly independent of the City of Jacksonville, the Library, and the Library Board of Trustees. To learn more call 904-255-6192 or visit www.jplfoundation.org.