Lions and tigers and bears?! Oh my! Little animal lovers will have the chance to explore different zoo animals this week as we read, sing, talk, and play together.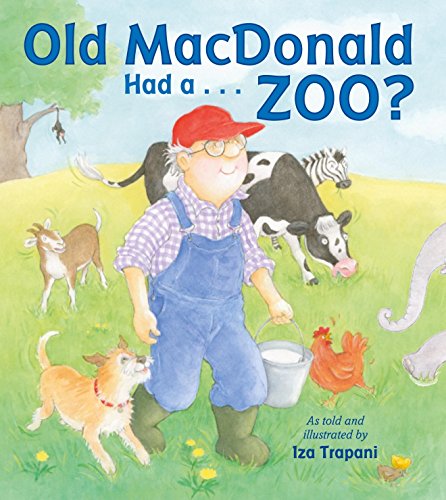 Use your library card or apply for an ecard to access our digital library!
SING: Old Macdonald Had a...Zoo?
Get ready to sing along to this twist on the classic song "Old Macdonald Had a Farm". Singing slows down language, which will help your little ones to hear the smaller sounds in words. This will help them later to sound out words when they learn how to read.
Increase pre-literacy skills as you read together:
Ask your child to identify the zoo animals or label the animals for your little one.

Encourage your little one to sing along with the refrain E-I-E-I-O or fill in E-I-E-I-____.

Move like the animals in the story (e.g., hop like a kangaroo).
Practice making them together(e.g., plunk, whoosh, vroom).There are a lot of sounds in this story!
Sing a song together about some of the animals from our story and get your bodies moving!
In the Zoo
(Tune: Mulberry Bush)
This is the way the elephant walks,
Elephant walks, elephant walks.
This is the way the elephant walks,
In the zoo! (Stomp your feet like an elephant)
This is the way the kangaroo hops,
Kangaroo hops, kangaroo hops.
This is the way the kangaroo hops,
In the zoo! (Hop like a kangaroo)
This is the way the alligator snaps,
Alligator snaps, alligator snaps.
This is the way the alligator snaps,
In the zoo! (Use palms of hands to snap shut like an alligator's mouth)
EXPLORE: Animals in Action
How to play:
Write different zoo animal names on small pieces of paper. As you model writing for your child, spell out the letters of the animal names.
Fold up the pieces of paper to create a pile.
Take turns pulling a piece of paper and opening it up to reveal the animal. Help your child to read the name of the animal on the piece of paper.
Talk to your little one about that animal and how you think it might move.
Have fun moving like that animal!
Here are some ideas:
Penguin – waddle back and forth
Giraffe – stretch out your long neck
Seal – clap your hands
Crocodile – use your hands to snap like a crocodile mouth
Camel – bend your knees to walk
Snake - slither on the ground
Elephant – stomp your feet and wave your trunk in the air
Flamingo – balance on one foot
JOIN: Join us for more zoo themed fun during our virtual programs this week!
Little Readers: You want your child to have all the tools they need to start school. Here's the toolbox! Let's start with a story that your child will love, and add music, get everyone up and moving and sprinkle in other fun to make it all stick. We're saving a spot for you!
Little Movers & Shakers: Your child loves music and movement! Gather them around for a storytime they won't forget! We'll read rhythmic stories together and add songs and movements to make it a wonderful time for all. Get ready to make move to the groove.
Little Explorers: Is your child constantly asking you "why?" and curious about how things work? Then Little Explorers is made for them! We start with a great story, add movement and exploration with our senses to help kids better understand the world around them. Let's build pathways to knowledge!