The sky's the limit this week as we travel to outer space with your little astronauts. 10, 9, 8, 7, 6, 5, 4, 3, 2, 1, BLAST OFF!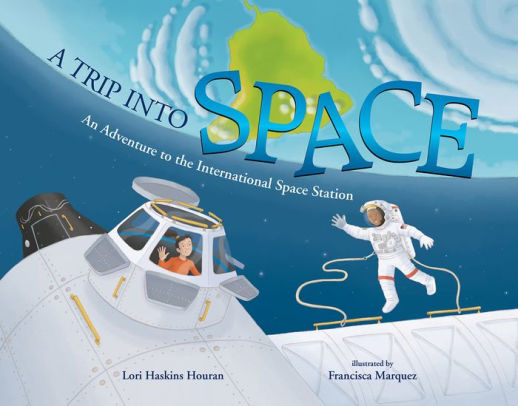 A lively, rhythmical story and detailed illustrations take readers on a trip to the International Space Station, where astronauts work, sleep, and walk in space! Fact-filled and fun, this story will send young minds soaring.
Use your library card or apply for an ecard here to access our digital library!
Increase pre-literacy skills as you read together:
Sharing factual books like this one will help your children to learn about the world around them. Building background knowledge will help them later to understand what they read.
Increase vocabulary as you share the story by explaining what unknown words mean.
Ask your children to help you read the story by saying the repeated phrase "up in space".
Point out any labeled pictures in the story (e.g.," This box says fresh fruit.").
If your little readers ask a question you don't know the answer to, show them how to find out. There is factual information at the back of this book that you can read together to learn more.
#SING: Zoom, Zoom, Zoom! Climb aboard the rocket ship and take a trip with us.
Zoom, Zoom, Zoom
We're going to the moon.
Zoom, Zoom, Zoom
We're going to the moon.
If you want to take a trip,
Climb aboard my rocket ship.
Zoom, Zoom, Zoom
We're going to the moon.
5, 4, 3, 2, 1,
Blast off!
#EXPLORE: Go on a Spacewalk
Gravity keeps our feet on the ground while on earth, but in space astronauts can float. When astronauts walk in space they need space suits and a rope to stay tied to the spacecraft to keep them safe. Go on a spacewalk at home and pretend you are floating like an astronaut in space.
Here are some ideas:
Stand up slowly
Move hands up in the air very slowly
Turn around very slowly
Wave at your friends very slowly
Take two steps forward into space...slowly
Take two steps backward...slowly
Keeps the fun going by alternating between walking on earth (fast) and in space (slow). How else can you move on your spacewalk?
#JOIN: Our virtual programs this week are out of this world! Climb aboard the rocket ship and journey to space with us.
Little Readers: S is for Space! This literacy-based program is for children from birth to pre-k and their families. We will sing, talk, read, write, and play together to develop the pre-literacy skills your little ones need to get ready to read and write. Let's journey to space with A Circle in the Sky by Zachary Wilson and Twinkle, Twinkle, Little Star by Iza Trapani.
Monday, October 12, 2020 – 10 am
Little Movers & Shakers: Let's get the wiggles out! This music-based program is for children from birth to pre-k and their families. Through books, songs, and movement activities we will build pre-literacy skills. We'll blast off with Hey-ho, to Mars We'll Go! A Space-Age Version of The Farmer in the Dell by Susan Lendroth and Space Song Rocket Ride by Sunny Scribens.
Each week we will use an instrument to sing a song and explore sounds and movement. This week we will be using an egg shaker. You can use an empty container or empty water bottle to create your own shaker by filling it with coins, or dry foods like rice or beans.
Tuesday, October 13, 2020 – 1 pm
Friday, October 16, 2020 – 10 am
Little Explorers: 5, 4, 3, 2, 1 BLAST OFF! This exploration-based program is for children from birth to pre-K and their families. We will use books to nurture curiosity, create, and discover the world around us. This week we will read Round Like a Ball! by Lisa Campbell Ernst and Roaring Rockets by Tony Mitton. After investigating our theme through stories, songs, and a game we will conclude our program with a hands-on activity
Each week we will use a variety of materials that you may have at home for our exploration activity. This week's needed materials are:
Aluminum foil
Various sized coins, cans, circular objects, etc.
Scissors
Black paper
Wednesday, October 14, 2020 – 10 am
#KEEP READING: